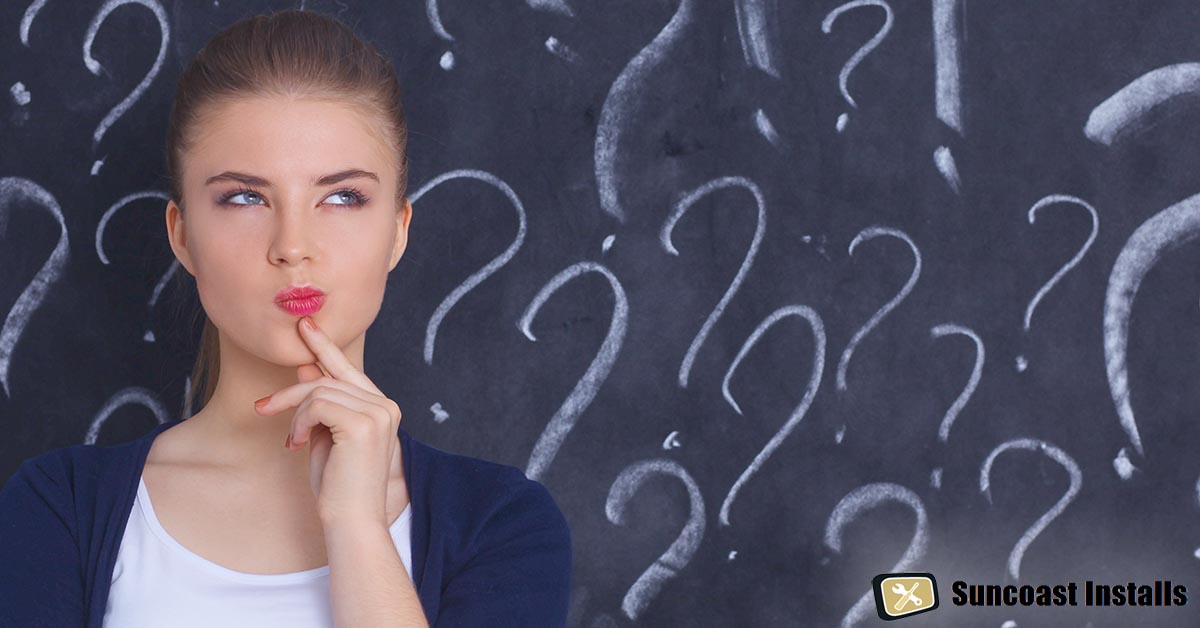 What does Ring Doorbell do? If you didn't get swept up in the original video doorbell craze but you have since been thinking about how a doorbell like Ring can help you, then you're in the right place! At Suncoast Installs we have been offering Ring Doorbell and other video doorbell installations since video doorbells first became popular. What does that mean for you? It means that a) we're very good at video doorbell installation for West Floridians and b) we know a thing or two about their features!
So, What Does Ring Doorbell Do?
Firstly, since Ring Doorbell is our most frequently installed video doorbell installation service, we picked that one for today's example. In truth, however, most of these doorbell systems work in the same way. The biggest difference you will find between different manufacturers of video doorbell options is that while they have the same core functions, the "extras" are going to vary.
Secondly, there are multiple versions of the Ring Doorbell available on the market, but the recent releases all share similar core features so we're going to look at these main features. If you are interested in learning more details about the individual camera options, you can do this on the Ring Doorbell Website.
So, what does the Ring Doorbell do for you? 
Provides a Live Video Picture of Who is At Your Door
The Ring Doorbell system's original purpose is to make your home a safer place by providing a modern version of the peephole. The doorbell has a small camera built into it so that you just have to look at the Ring Doorbell App on your smart device and you can see who is at your door. This differs from a traditional peephole in that you don't actually have to go to the door and you can record video footage taken by your doorbell camera in case you should need to recall it again later.
Provides the Ability to "Answer" the Door From Anywhere
If you have your smart device with you or if you have a PC nearby, you can "answer" your doorbell when it rings no matter where you are. There are multiple reasons why this is a beneficial feature:
You can give the impression that someone is home even when they aren't – this helps to deter theft and burglary.
Allows you to see when there is motion around your front door by sending you an alert.
You can answer the door to give instructions to a delivery person on where to leave a package or you can give a friend or family member instructions on how to use your smart door lock to get into your home.
Acts as a Motion Detector
The Ring Doorbell has a camera built-in but it also has a motion detector setting that you can alter the sensitivity on. Having a motion detector means that you can set up your Ring Doorbell to record what's going on in your neighborhood when activity takes place in front of your home. This feature is a great way to create a "neighborhood watch" and to take note of any suspicious activity that happens in front of your home at any time of day whether you are home or not. This footage can also be used as evidence in a legal case if a crime does take place and your Ring Doorbell catches it.
Allow For More Versatility in Doorbell Sound
The Ring Doorbell system gives you the option of buying an "extender" which you can use in other areas of your home to extend your signal and play the ringtone for your doorbell in that room. If you are hard of hearing or if you have a large home, using an extender will make sure that you don't miss the sound of your doorbell if you don't have a smart device or just don't have it handy.
Set Up a Whole Security System
One of our favorite features of the new Ring Doorbell systems is that they are compatible with a whole line of Ring home security products like additional security cameras, an alarm keypad, and security floodlight or spotlight cameras. Our installation experts can even install these elements for you when we install your doorbell so that you can have everything set up at once!
Need Help with Installation Now That You Don't Have to Ask "What Does Ring Doorbell Do?"
Now that you know just what the Ring video doorbell can do for you, it's time to find someone who can help you with the installation process! If you live in or around West Florida, Suncoast Installs can help, just pick up the phone and give us a call at 727-480-8358 and we'll be with you right away so that you can start using your new video doorbell features right away!