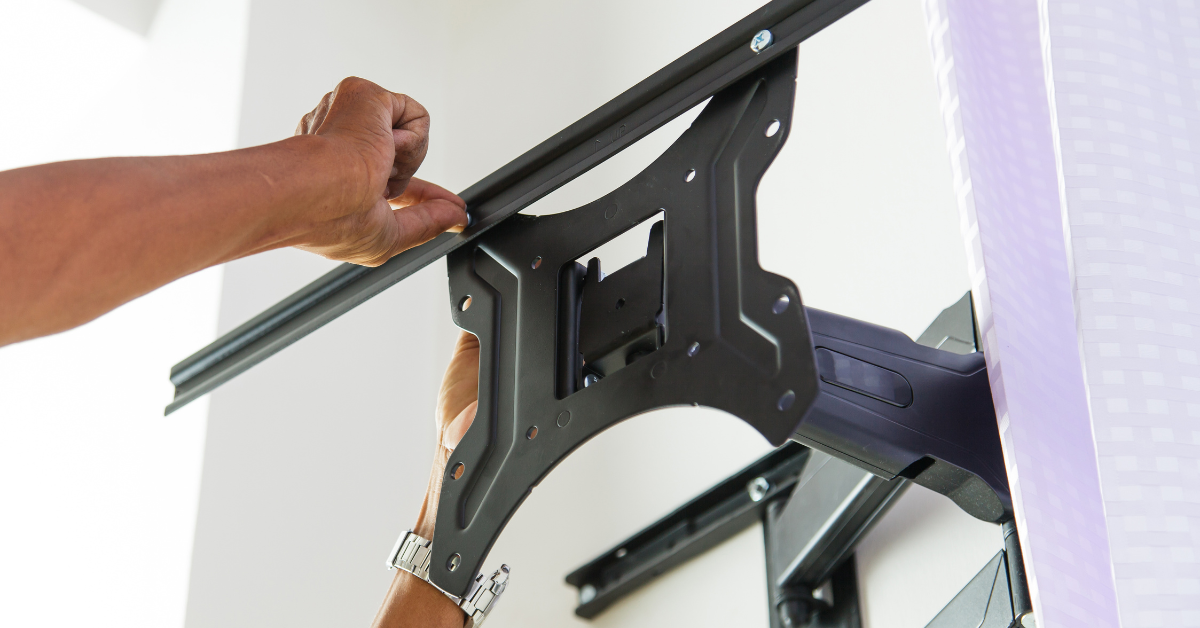 TV installation services are designed to ensure that you get the most out of your new TV, whether it's an LCD or plasma TV, or an HDTV or 4K TV from Samsung or another top brand.
While you can mount the television yourself, it's often easier to get the professionals in to do it for you, especially if you're worried about potentially damaging your new investment with improper installation.
Here are some of the most popular mounting options.
The most popular TV mounting option: wall mounted
Wall-mounted televisions are a popular choice because they give you more space and can help to provide a more aesthetically pleasing look. A wall-mounted TV is mounted directly to the wall, which means you can't put anything on top of it.
If you're considering a wall mount, measure the distance between the floor and where your TV currently is as well as the distance between any other objects that may be in front of your TV. You'll want enough clearance for everything to fit once the TV is installed on the wall.
Another consideration when deciding what type of mount you need is whether or not there's enough room behind your TV. You'll want to make sure there's plenty of room if you plan on installing another electrical outlet or putting something else back there like shelving units or a cable box, since many wall mounts require some sort of access back there.
See Also: TV Installation Prices
The second most popular option: table top
The second most popular option is a table top TV set up. This is a great choice if you don't have a wall to mount the TV on or you're trying to save space. A table top TV set up has multiple benefits. First, it takes up minimal floor space so your home will feel less cluttered.
Second, the TV can be stored in an armoire when not in use which will make it look neat and tidy. Finally, this type of setup is perfect for those who are looking for ways to disguise the television's true purpose (ie., as a TV).
The third most popular option: ceiling mount
A ceiling mount is the third most popular option when it comes to mounting a TV. Ceiling-mounted TVs are great because they offer a sleek, clean look and can save space. There are two main types of ceiling mounts: the flush mount and the full-motion mount.
Flush mounts give you a minimalistic look and can be installed more easily than full-motion mounts.
Full-motion mounts allow you to tilt and swivel your TV so that you have an improved viewing angle. The only downside with this type of mount is that installation might be more complicated than with a flush mount.
Another benefit of ceiling mounts is that it provides protection for your investment by securing the TV high off the ground where damage due to children, pets or furniture falling on it is unlikely.
The fourth most popular option: under cabinet mount
For many homeowners, the fourth most popular option is an under-cabinet mount. This type of mount is perfect for those who want to hide their tv and free up some valuable space. The tv is mounted on the wall under a cabinet or under the cabinet with brackets that are screwed into place. In addition, this mount can often be installed by anyone with basic DIY skills.
Benefits of Hiring a TV Installation Service to Mount Your TV
Avoid the hassle of mounting a TV yourself by hiring a TV installation service. It's important to understand the benefits of hiring a TV installation service to mount your TV before making any decisions.
Hiring a TV installation service can save you time and energy, as well as provide peace of mind that your television is mounted securely. Plus, professionals will have the proper tools and experience needed to mount your screen in the correct way for optimal viewing.
If you're in need of a television mount installation service, give us a call at Suncoast Installs now, 727-480-8358.
At Suncoast Installs, we provide free estimates and proudly service the following areas; Palm Harbor, Clearwater, Oldsmar, Dunedin, Safety Harbor, and Tarpon Springs. From time to time, we're able to provide installation services in Trinity.
Additional Installation & Mounting Services Include:
Above Fireplace TV Mounting
Artwork Installation
Hidden Wires Installation
Picture Mounting
Smart TV Installation & Set Up
Soundbar Installation
Wireless Speaker Installation
Outdoor TV Mounting
Outdoor Speaker Installation