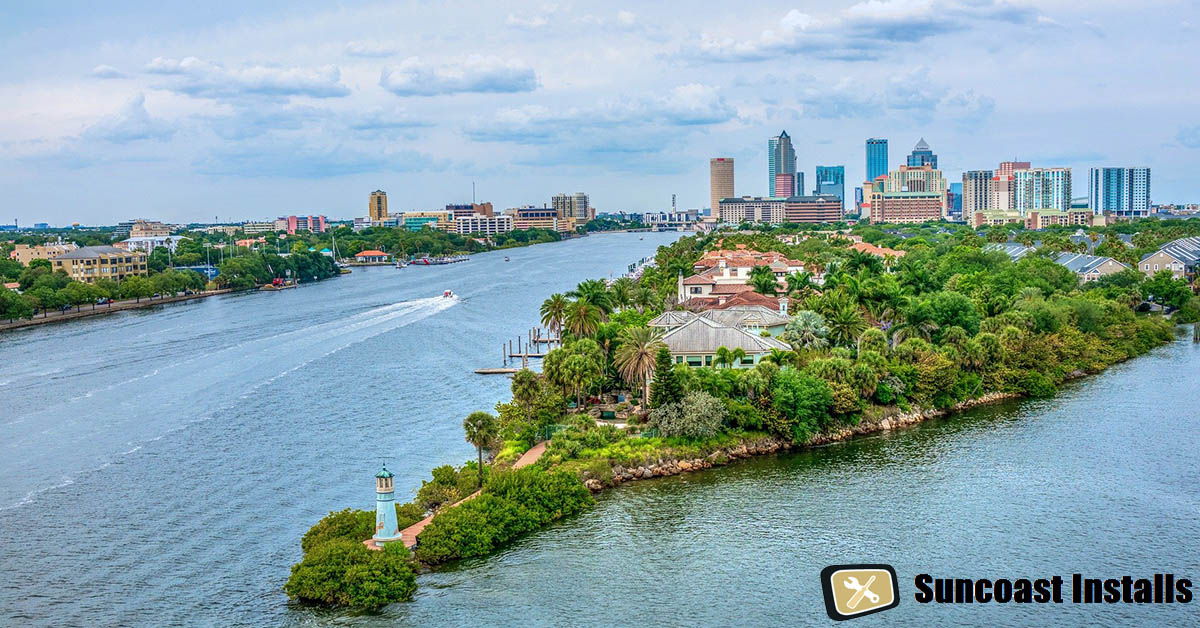 As the leading West Florida installation company, here at Suncoast Installs we know a thing or two about at-home art installation. That's why today we want to share with you some of our favorite art installation tips to help you to get the perfect art layout at home!
West Florida Installation Company Shares Art Installation Tips
If you're only looking at hanging a few pieces of framed art or canvases, the chances are that you are going to want to do the job yourself. That's why we're sharing these valuable art display tips to help. Just remember, though, if you have particularly large or valuable pieces of art or if you have a number of pieces to hang, we always recommend calling in the professionals!
Don't Crowd Your Pieces
Whether you are hanging two or twenty pieces of art in one area, remember to give each piece enough room to breathe. Hanging pieces too close together takes away the uniqueness of each piece of art, instead, everything looks crowded and can even look like one single piece. Instead, make sure that each piece has a nice border of wall space – ideally, you want at least 30% of the wall showing when you've finished mounting art pieces on a single wall.
Pay Attention to Lighting
Lighting plays an important part in showcasing your artwork. We're not just talking about mounting a piece in a room that has decent lighting, we're talking about using art-specific lighting to highlight each piece of art individually. For example, think of artwork being displayed in a gallery where small lights are mounted to the wall above each canvas or on the shelf underneath the art. This type of lighting creates a much more dramatic effect and is perfect for those art pieces that you really want to highlight.
Adding this type of highlight lighting is also a great way to light a particularly dim area of the room allowing you to avoid cluttering your space with floor lamps.
Feature Pieces Should Be Featured!
If you have a limited art collection or if you have just a few select pieces, you want to be sure to feature that piece rather than allow it to blend in. For example, if you only own three paintings that you want wall-mounted, but those three paintings are your pride and joy, don't simply hang them in a horizontal line on one wall with a 1″ space between them. Make each of your pieces a display of its own using lighting to highlight each one. That isn't to say that you shouldn't mount all three pieces in a row on one wall, but if you do, give each piece enough room to breathe and to be appreciated as its own piece of work. Crowding all three pieces together forces them to be appreciated as a group and can leave the rest of your home looking rather plain!
Invest in a Good Frame
If your budget is low, it's tempting to grab cheap frames that come in economy-sized packs – don't. The ideal solution is to invest in a good, solid frame that will last for a lifetime. This doesn't just ensure that each art piece looks great, but it also means less handling of the art piece in the future because a cheap frame has broken and needs to be replaced.
If you find your budget lacking, there is still a way to get hold of some great quality picture frames – shop used! Whether you shop at thrift stores, online auction sites, or store returns, there are plenty of great high-quality frames out there for a budget price if you are willing to do some digging! Found one you love that's looking a bit worse for wear? Get out the sander, varnish, and paint and get to work! There are plenty of great video tutorials out there that can help you to bring that old piece back to life!
Now, don't think we're saying that you have to invest in a solid gold scroll-work frame from French royalty! We're simply advising that you skip those cheap plastic frames that don't support your art pieces well enough and detract from the quality of the art piece itself!
Looking For a Reputable West Florida Installation Company?
If you're looking for a reputable West Florida installation company to help with your art installation or TV mounting, Suncoast Installs can help! Just pick up the phone and give us a call today at 727-480-8358 to make an appointment for your installation right away!