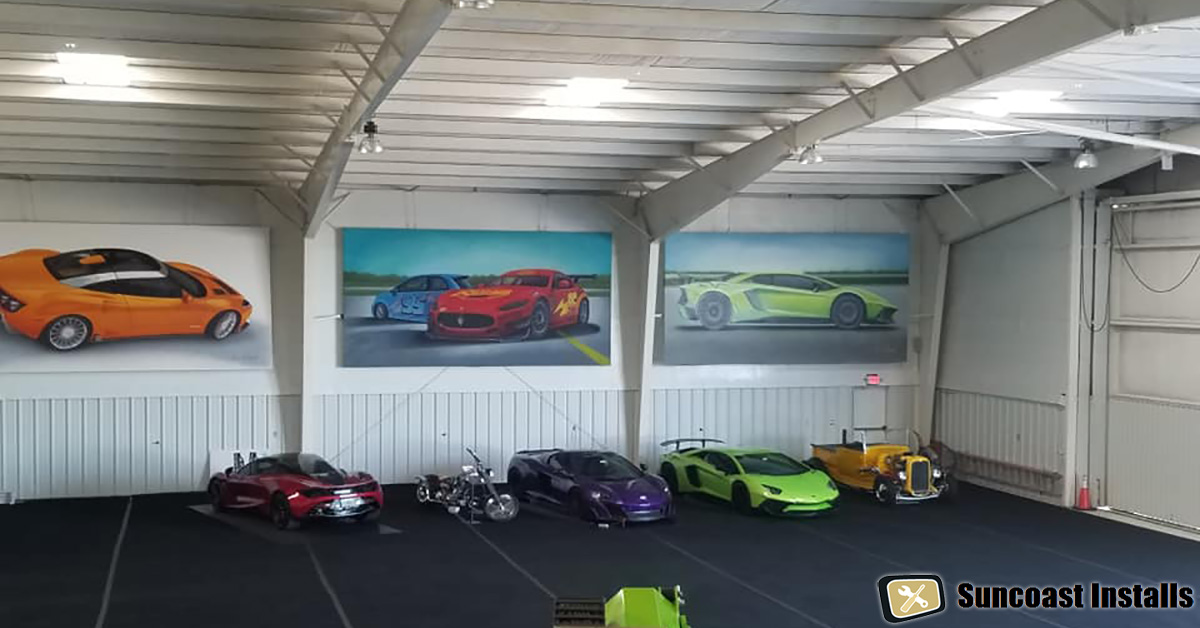 As a top Tampa art installer, here at Suncoast Installs, we have a wealth of experience installing art pieces in all types of locations. Most of our clients call with more traditional art installation needs, but once in a while, we get unique requests like these…
Tampa Art Installer Shares Unique Art Installation Examples to Consider!
Your Auto Garage
If you are a car collector or a gearhead then the chances are that you spend a lot of time in your garage and you take a lot of pride in everything that happens there. Sometimes, though, the walls of a garage – particularly if you have a larger hanger-type garage that houses your biggest investments – can seem a little bare. One of our clients tackled this problem by calling us to come in and install a series of framed prints of their cars on the walls! We have to admit that when our client first called, we were a little skeptical about how the final project would look, but by the time we were finished, we were really impressed with how well it turned out! Each car had a framed print above it almost like a nametag and best of all, our client was ecstatic to see his idea come to life!
The Right Triangle Display Under the Stairs
If you have a small right triangle-shaped wall under your stairs, you know that it can sometimes seem like a strange spot of bare wall when the rest of your home is well decorated. A few of our clients lately have called us in to help them to remedy this problem through art installation. Our solution? We take a series of art prints and recreate the right triangle shape with the art prints. We love this type of display because it creates an orderly art display that's both unique and that eliminates that awkward blank space. This type of art installation works best with six or more framed prints or canvases and can be created with a uniform look using the same frames for each print or with an eclectic appearance using all different frames.
Slanted Walls and Peaked Ceilings
One of the biggest problems that homeowners, renters, and business owners have when it comes to decorating is dealing with slanted walls and peaked ceilings. This is a problem because the unique shape of the walls and ceilings limit what furniture can be placed along those walls leaving large blank spaces. Art installation on these walls can pose a problem too due to the unusual shape of where walls and ceilings meet. Fortunately, our professional Tampa art installer teams have experience with this type of project! One of the ways that we have helped clients to deal with this type of problem is to come in and create a unique type of scattered art display that fills the wall but in a way that disorganization becomes a decorative theme itself. This technique reminds us of older family homes with walls full of portraits and we find that it adds a really homey theme to any building.
Mural Integrated Art Installation
Wall stickers and murals are becoming another increasingly popular decor idea in homes around the nation and if we're being honest, it's actually one of our favorite decor styles in family homes. For example, one of our clients had hired an artist to come in and paint a large family tree mural on their living room wall. Our client then called us in and presented us with a series of framed family photos and asked us to install them so that each portrait looked as though it was growing from a branch on the tree. The final product was incredible and since we completed that installation we've actually had a number of clients request something similar using family tree wall stickers that they have purchased online. This is a great wall filling option for a home with a lot of blank wall space and we particularly like the mixed media use to give the walls a multi-dimensional feel!
Looking For a Tampa Art Installer?
If you're looking for a Tampa art installer to help you with your art installation project, Suncoast Installs would be happy to help! Since 1999 we have been assisting homeowners, renters, and businesses in west Florida with their art installation needs as well as TV mounting and installation needs. Our installation technicians are all professionally trained and dedicated to your satisfaction, so just give us a call today at 727-480-8358 and let's get that project checked off your "to-do" list!