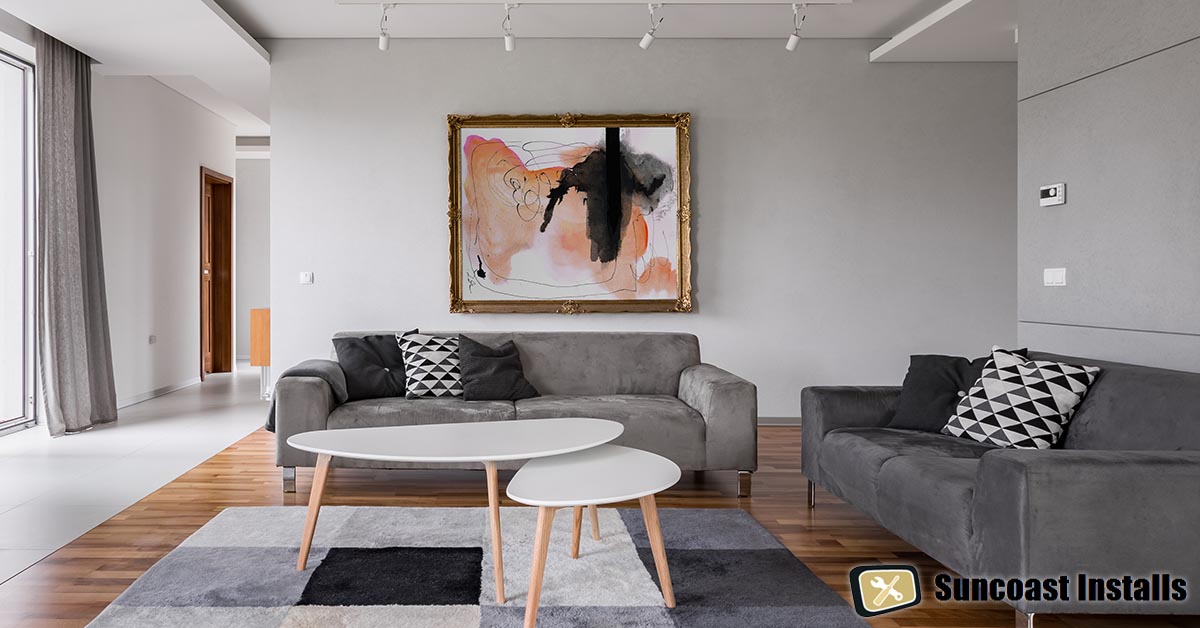 Why should you consider hiring an art installer Wesley Chapel? After all, isn't installing art as simple as nailing a picture hook into the wall? Not necessarily! There are a number of elements to proper art installation and hiring an art installer is a time-saving and simple way to get it done!
Why You Should Consider Hiring an Art Installer Wesley Chapel Recommends!
Because Those Sticky Tabs Can't Be Trusted
Those handy sticky tabs that eliminate the need for putting holes in the wall aren't made to be used on everything. The poster your teenage son bought from the mall? Sure, those sticky tabs will work perfectly for keeping that on the wall, but what about the family portrait you sat for for weeks and paid thousands for? How about that 200-year old art-piece that you snagged at auction or the sketch that your great, great, grandmother did that you had framed? Not all art-pieces should be trusted to sticky tabs on the wall. With more valuable pieces like these, you need the peace of mind of knowing that your art is safely secured to the wall with the proper hardware.
Because One Picture Hook Does Not Fit All
Many homeowners believe that they can pick up a box of picture hooks from the store and keep them on hand to hang pictures with. While certain picture hooks may be right for certain types of art-pieces, not all art pieces and picture hooks are the same.
Look at the art-piece you picked up from auction, the piece with the thick, heavy, gilded frame. It takes two of you to hold that piece up to the wall just to hang it. There's no way that the same picture hooks that hold a simple canvas print to the wall could hold this piece on the wall too.
A professional art installer Wesley Chapel recommends has a wide range of hardware on hand so that you don't have to worry about which type of hardware to use for that heavy art-piece. In fact, your friendly professional art installation expert has a wealth of tools in their arsenal to be sure that your art is not only well hung but that it's also well supported.
Because When Things Don't Go to Plan, You're Not Covered
Another benefit of having a professional art installer Wesley Chapel recommends is that when you install your own artwork and things don't go to plan, you're left high and dry. That piece of art you just love? When it comes crashing off the wall because you relied on those sticky tabs instead of the right picture hooks, you are very likely left with no recourse. If you invest in a professional picture installation expert, you don't have to worry about a thing. Here at Suncoast Installs, our technicians have the tools to get the job done right and do it well, but you also have the peace of mind in knowing that if something does happen to cause that art piece to get damaged, you are always covered by our service warranty!
Because You've Been Putting This Project Off for Too Long
That picture you have had sitting against the wall for months and keep putting off hanging, how long will it keep sitting there? We know you're busy, we all get caught up in work and by the time we get home we just want to relax. Here at Suncoast Installs, however, it is part of our job to hang artwork, so why not stop putting off that project and leave it to us? Rather than having it hanging over your head (no pun intended), just give one of our professionals a call and make an appointment to have it taken care of!
Hire an Art Installer Wesley Chapel Trusts
If you're ready to invest in quality art installation for your home or your office, Suncoast Installs can help! Just pick up the phone and give us a call at 727-480-8358 to make your appointment today! Since 1999 our Suncoast Installs technicians have been providing reliable installation services to West Florida residents. Not just limited to art installation, our professionally trained technicians can install anything and everything from ceiling fans to window blinds to kitchen cabinets to television mounting! No matter what it is that you need installed or mounted, we've got you covered!