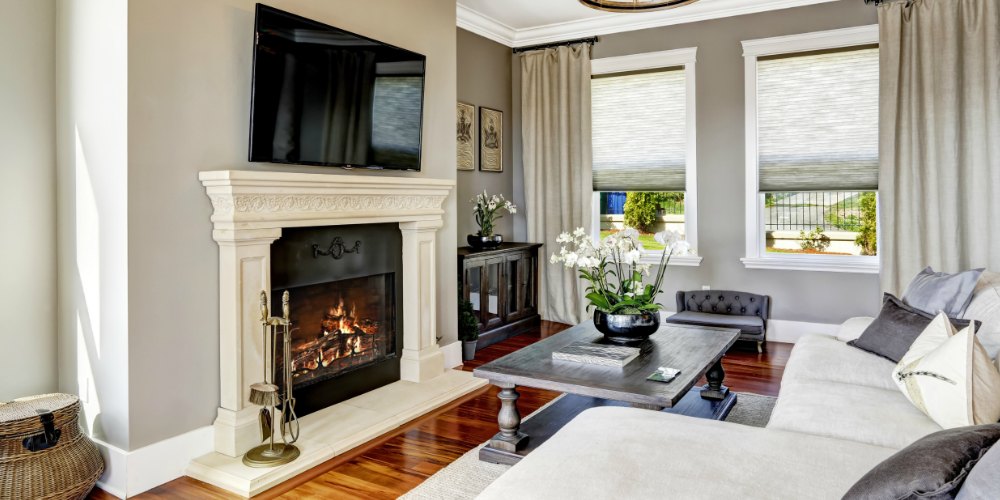 There are a good many reasons why you might consider hiring Tampa Bay installation services. Just in case you're wondering what Suncoast Installs can do for you, though, here are 10 reasons that you might want to invest in our services!
10 Reasons to Hire Professional Tampa Bay Installation Services
1. Mounting Your TV
If you want to take your TV from the tabletop to mounting it on the wall for a cleaner installation, we can do that for you! From helping you to select the right mount for your TV to getting that mount hung level on your wall and your TV securely in place. We can help you to get your TV mounted and ready for a movie night in no time!
2. Hanging Your Art
Have you just invested in a new painting or printed your favorite photographs to hang at home? It doesn't matter how much you paid for your art piece, we can get it hung for you. We use professional tools and professional installation experts to get your piece hung on the level. Worried about glare or sun exposure? Don't be, our experts consider all of the possible problems before hanging your art for you so it's always placed in the right place in your home.
3. Installing Your Surround Sound System
Just bought a surround sound system but not sure how to hook it up? Don't worry, we know how! Leave it to us and we'll get that surround sound system properly installed and even wall mounted if you would like! Just let us know what type of setup you'd like and we can get it done for you.
4. Concealing Your Cables
Already have your TV and surround sound system set up but sick of seeing those cables dangling down the wall or running across the ceiling? Give us a call. We can conceal your cables for you by either running them behind the wall in your home or by using cable covers that are color coordinated to your walls so that they're not visible. Even if we didn't do your TV installation, we can still help you to cover those cables and leave your place looking better than ever!
5. Simple Tabletop TV Setup
Not looking for your TV to be wall mounted and just want a basic tabletop setup instead? We can get that done for you too. From unboxing your TV to setting it up, getting your components connected, concealing your cables, and programming your remote, we can get it all done for you! Plus, we give you a warranty on all of the work we do for you.
6. Soundbar Installation
Just invested in a soundbar? We can help you to hook it up and get it placed and mounted for optimal sound. If you want the soundbar hooked up and simply placed on the tabletop, we can do that. If you want your soundbar mounted on the wall or set under your wall mounted TV we can get that done for you too!
7. Installing Your Artwork
We don't just install framed pictures and paintings, we can take care of your other artwork pieces too! Got a new sculpture? A collectible sports piece, a treasured family memory, or military medals? Whatever it is that you want mounted for display, we can get it mounted for you. We don't just make sure that your art pieces are level, we make sure that the lighting is optimal, and they're out of direct sunlight so they never get damaged!
8. Wireless Speaker Installation
Wireless speakers and surround sound systems don't have to be the same thing. If you're looking to optimize your music system by installing wireless speakers throughout your home, we can get it done. From optimally placing your speakers around the rooms of your home to making sure they're all linked and your cables are well hidden, we can do that for you too! Just have a couple of speakers you want setup? We'll get those done too. There is nothing we can't do for you when it comes to wireless speaker installation.
9. Install Your Outdoor TV Setup
Outdoor TV installation isn't something that most homeowners should try to do themselves. It doesn't just involve mounting the TV on the wall, there are a lot of other things to take into consideration. What type of surface are you mounting your TV on? Is it stucco? Brick? The type of surface you will be mounting your TV on plays a huge role in the type of tools you need for the job and how the installation process goes. You also need to consider the location of your TV outdoors so that it isn't exposed to the elements. That's where our professional Tampa Bay installation services come in!
10. Specialty TV Mounting Jobs
In addition to TV mounting outdoors and on the wall in your home, we can get your TV mounted in specialty locations too. We can set up ceiling mounted TV's, TV's mounted over the fireplace, TV's in your sunroom and game room, if you can think of it and it can be done logistically, then we're the team to get it done for you! Our professional TV installation experts have decades of experience and in that experience, they have installed TV's in a huge range of locations. Not sure if it's doable? Just give us a call and ask us and we'll take a look around and see if we can get it taken care of for you.
Looking to Hire Professional Tampa Bay Installation Services?
Whether you need help with your picture installation, TV mounting, or speaker installation, we can help! Just pick up the phone and give us a call at 727-480-8358!