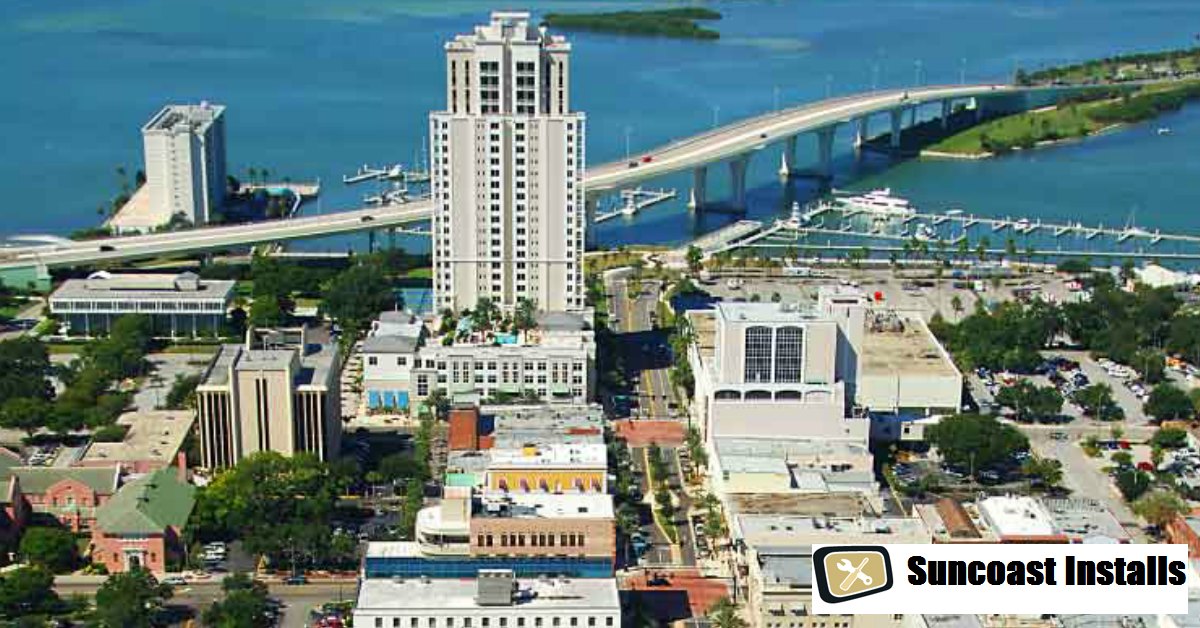 Hillsborough County TV installation services aren't hard to come by, but what do you really know about the company you are hiring? Here at Suncoast Installs, we believe that you should not only receive top quality TV installation services that you can afford but that you should feel confident in the company that you hire to provide those services. You deserve to know who is coming into your house, the quality of the services they provide, and that they stand behind the services that you are paying for. So today we want to tell you a few of the ways that we instill confidence in all of our clients!
Hillsborough County TV Installation Services By Suncoast Installs
We Know Who You Are Inviting into Your Home
With so many installation companies out there, we believe that it's important for you to know WHO you are inviting into your home. Whenever you hire a stranger to work in your home, you are putting your trust in a company to know who they hire and that the people they send to your home are experienced and trustworthy people. Here at Suncoast Installs, we run thorough background checks on all of our technicians. We do this not only to ensure that they are professionally qualified, but also that they can pass a criminal background check. Why would you put your trust in a company that doesn't offer this security when your home and family are at risk?
We Have a Solid Reputation
Suncoast Installs have been providing Hillsborough County TV installation services as well as TV installation throughout the Tampa Bay area since 1999. With over eighteen years of experience, our company isn't just a stable presence in the community, we are also a trusted business that Tampa Bay natives aren't afraid to recommend to their friends and family.
When you hire a trusted and reputable company like Suncoast, that company is not going to disappear overnight, fail to uphold their warranty or provide shoddy service because continued growth of their business is dependent upon it. At Suncoast Installs, nothing is more important to us than the satisfaction of our customers and providing top-notch service because we know that our future success depends on you!
We Don't Abuse Your Time
When you call many installation companies, you will be asked to wait at home during a window of time that blocks out your entire day. We don't believe that this is the right way to treat our clients because it's an abuse of your time. Your time is as important as ours and it's not fair to require you to wait for us to show up for hours on end. That's why we provide exact time appointments to our clients and we make sure that we show up on time every time. That way you don't have to call out of work for an entire day, postpone errands, or rely on others to pick up the kids from school because you're sitting at home doing nothing but waiting for us!
When you give us a call, we will work with you to give you an appointment time that will work with your schedule and often we can accommodate last minute installation needs. With Suncoast Installs scheduling is all about you, just tell us what we can do to help and we'll do everything we can to make it happen.
We Can Install Just About Anything and Everything!
At Suncoast we don't just install televisions, we have a range of installation services that you can call on us for. This is another thing that makes us stand apart from those other Hillsborough County TV installation companies whose services are limited.
When you call Suncoast Installs you can rely on us to wall mount your TV, install tabletop television sets, install surround sound systems, set up wireless speakers, conceal wiring for your television setup, set up outdoor television systems, hang paintings, install artwork…basically, if there's something that needs installing…well, we can do it for you! All you need to do is give us a call at 727-480-8358 and let us know what you need our expert technicians to install for you and we'll get you set up with an appointment right away!
We Stand By Our Services
It's not every installation company that offers a warranty on the services that they provide, but Suncoast Installs goes one step beyond that. We provide all of our clients with a three-year-long guarantee on our services. How can we afford to do that? Well, unlike other less reputable companies, we only hire technicians who are masters of their trade. This means that our technicians provide top quality services that we can stand behind because we KNOW that they are services that you can trust. Companies that hire handymen and unlicensed technicians wouldn't dare to offer such a significant warranty because they know their services won't stand up to the test of time.
Looking For Top Quality Hillsborough County TV Installation Services?
If you are on the lookout for a reputable installation expert for Hillsborough County TV installation services, you are in safe hands with Suncoast Installs! Pick up the phone and give us a call today to make an appointment with one of our highly skilled technicians. You can reach us at 727-480-8358 from 9 am to 6 pm Monday through Friday and from 9 am to 2 pm on Saturdays!