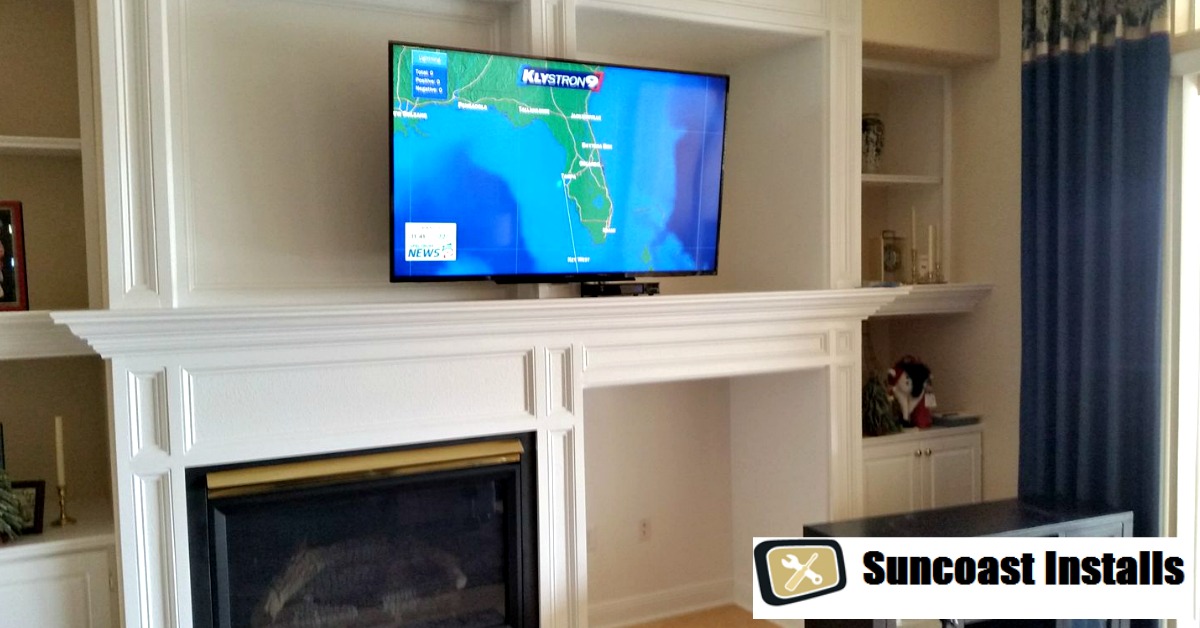 How do you prepare for the professional installation of your TV Tampa Bay? It's a question that we hear frequently when clients call in to book one of our professional TV installers in Tampa Bay. You see, many people are starting to understand just how much time and trouble it saves them to have a professional install their television, but not having experience with hiring someone for the job in the past, they're not quite sure what to do to get ready for their appointment! Here at Suncoast Installs, we're pretty easy going and we don't expect you to roll out a red carpet for us, but there are some things that you can do to help get your home ready for our arrival!
Preparing for the Professional Installation of Your TV Tampa Bay
Have Your TV in Your Home
You'd be surprised how many people make an appointment for installation of their TV but who don't yet have their TV delivered! We understand wanting to minimize your time off work, but don't try to make your installation appointment for the same day that your delivery is due. Deliveries run late and if your TV hasn't arrived by the time we do, then we will have to reschedule your delivery. Make your appointment only when you have the TV you want to be installed in your home. We can help you to unpack it if you need assistance, but we can't do anything if you don't have your TV!
Make Sure That Someone Over 18 is at Home
On the day of your installation, there must be someone aged 18 years old or older at home for the duration of your installation. At Suncoast Installs we provide you with a specific appointment time so that you don't have to wait at home all day for us to show up and it's easier for you to make sure that a responsible adult is at home when we show up!
Secure Your Pets
We understand that your pets are valued members of your family, but part of their job as your pets is to keep your home and family safe. Sometimes, when installation technicians show up at homes to do installations, pets can become nervous that a stranger is in their home or posing a threat to their family. This can result in fear biting or guarding behavior that puts both our technician and your pet in a very uncomfortable position. To avoid this, we kindly ask you to secure your pets in a safe area of your home while our technician is working.
Make Sure There's a Clear Path to Your Installation Area
We don't expect you to clean your house before our technician arrives, don't worry, but we will need to safely access the area where you want your TV installed. To prevent accidents, we ask that you make sure that there's a clear path to the installation point with no toys, boxes, or other obstacles in the way.
Prepare Any Questions You Might Have For Your Installation Expert
If you have any questions about your TV installation project or about how to use your newly installed system, write them down. Sometimes in the flurry of activity, we can forget things that we want to ask, writing questions down will help you to remember what to ask so that you feel fully satisfied after your appointment!
Remove Anything From the Walls in the Installation Area
If you currently have pictures or artwork hanging in the area where you want your TV to be installed, make sure to take those off the wall before you installation technician shows up. This will cut down on the amount of time it will take for your installer to get the job done and it will also ensure that only you handle your most valuable art pieces. Our installation experts are exceptionally careful in every home they visit, but it's always best if you handle these valuable items yourself.
Move Items Away From the Wall if Necessary
If you have furniture pieces against the wall where your TV is going to be installed, pull them away from the wall so that your installation technician can access the wall freely. This is especially important if you are going to have wiring set behind the walls during your installation.
Have Your Landlord or Landlady's Permission if You Rent Your Home
If you rent your home and intend on having any invasive installation work done like having wiring installed behind your walls, you must have your landlord or landlady's permission to get the work done. This should be the case for any invasive work you want to be done in a rental home simply because, without their permission, our company and our technicians cannot legally perform any work that requires making changes to the property itself.
If our technicians show up for your appointment and you do not have permission from your landlord or landlady, we will have to reschedule your appointment for another time when you do have permission to make such changes.
If you cannot get permission from your landlord or landlady to have the requested installation services completed, we will be unable to complete them for you. What we can do, however, is offer you a great price on our tabletop installation service instead!
Haven't Hired a Professional to Install Your TV Tampa Bay?
If you haven't yet hired a professional to install your TV Tanpa Bay, then it's time that you gave us a call! Pick up the phone and dial 727-480-8358 to book an appointment with one of our professionals for all of your installation needs! You'll find our prices are right and our service is the best, that's why we've been a staple in the Tampa Bay community since 1999!