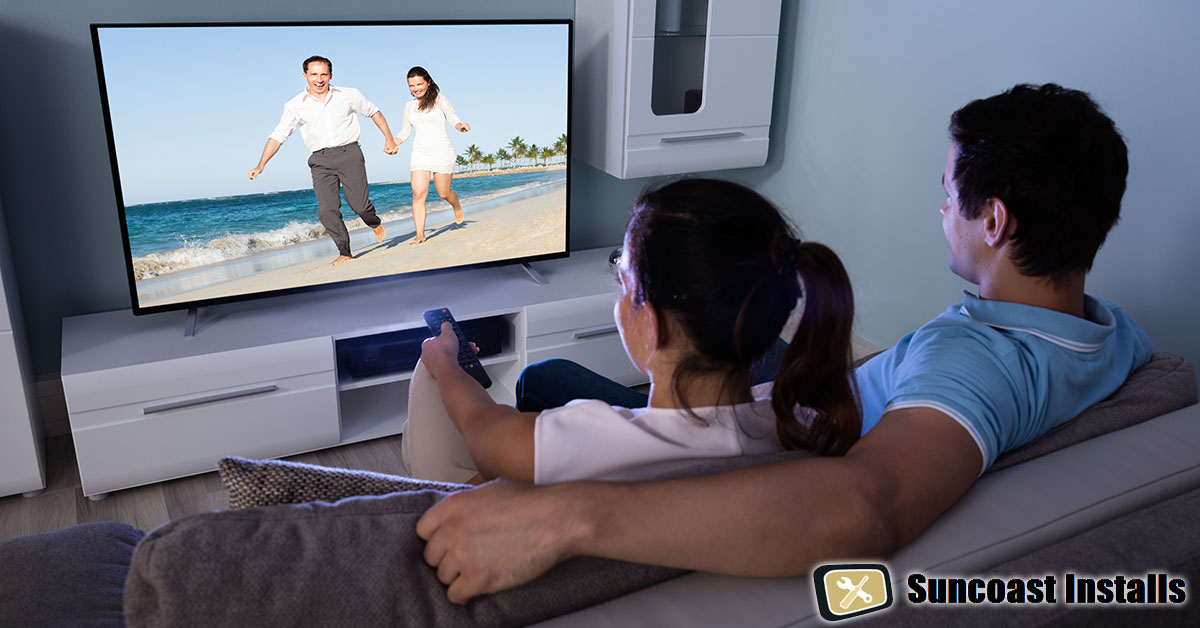 When you hire a TV installation company to complete your TV setup and mounting service, not every company is going to provide you with the same service. If you're like most people, then you're looking for the best caliber of service for a price that you can afford and you like to know exactly what you're getting for your money before you hire a company to help with your installation.
TV Setup and Mounting Service from Suncoast Installs: What to Expect
Unlike some companies out there, we don't play mystery games when it comes to our services or our pricing. We believe that you deserve to know exactly what you're paying and what services are included for that price. So, when you have Suncoast Installs complete your TV installation project, what should you expect?
Tabletop TV Setup
Sometimes you just don't have the time or the technical knowledge to set up your new TV, if this is the case, our tabletop TV setup might be the right option for you.
Our tabletop TV setup packages include:
Our professional installation experts will unpack your new TV for you
Our technicians will set up your TV on your stand or tabletop as you request
Our installation technician will also connect all available video components for you
Lastly, our technician will thoroughly clean up the work area and installation debris to leave your home as clean as they found it!
Plus, as an added vote of confidence in the work that our technicians provide, we also give you a 3 Yr Warranty on services provided!
So how much can you expect to pay for our tabletop TV setup? $124.99. It doesn't matter what size your TV is, our tabletop TV setup cost is one flat fee and it includes all of the services listed above!
TV Wall Mounting
If you're looking for something a little more modern with clean lines and less bulky entertainment center furniture, our TV wall mounting service is what you are looking for.
Our TV wall mounting service includes:
Our experienced installation technician will unpack your new LCD, LED, OLED, or Plasma TV for you
Our technician will then mount and secure your TV on your wall of choice using the TV mount you provide
Our installation technician will then connect up to 3 video components for you
Our professional tech will then program basic functions on your remote control for you\
Lastly, our technician will always clean up their work area and remove any installation debris so that your home is as clean as it was when they found it!
Plus, when you have Suncoast Installs complete your TV installation and mounting service, you will receive a 3 Yr Warranty on the services provided
What can you expect to pay for your wall mounting and installation project? Well, that depends on the size of your television, but we charge flat fee rates for your complete installation within different size profiles:
| | |
| --- | --- |
| Up to 35" TV | $149.99 |
| Up to 50" TV | $175.99 |
| Up to 65" TV | $199.99 |
| Up to 80" TV | $249.99 |
| 81" & up | $299.99 |
Additional TV Installation Services and Deals
At Suncoast Installs, we don't just complete parts of your TV installation job and leave you hanging, if you have other services that you would like to add on to your TV installation, we also offer add-on options including:
Selecting and provision of TV mounting brackets
Provision of HDMI and component cables
Installation of wiring and power sources in the wall
Set up and installation of your sound systems
Plus, we can complete installation on virtually any type of surface! (Fireplace, Stone, Brick, Block, Wood, Etc.)
If you have more than one TV installation and mounting service that you need completed, we can help you with that too. In fact, we offer a discount on multiple TV installations so why not get all of your TV's professionally installed at the same time?
Other Installation Services
We're an "anything is possible" installation company and our professionally trained technicians are capable of installing just about anything you can think of! That means that if you have kitchen cabinets that you need installed, ceiling fans that you need mounting, window blinds that you need putting up, art pieces that need hanging…we've got you covered.
Let Suncoast Installs Complete Your TV Installation and Mounting Service
Here at Suncoast Installs, we are always happy to complete your TV installation and mounting service with a smile! We're nothing like those handymen companies you have hired before and we guarantee our service for THREE YEARS! Give us a call today at 727-480-8358 to get your TV set up ASAP!