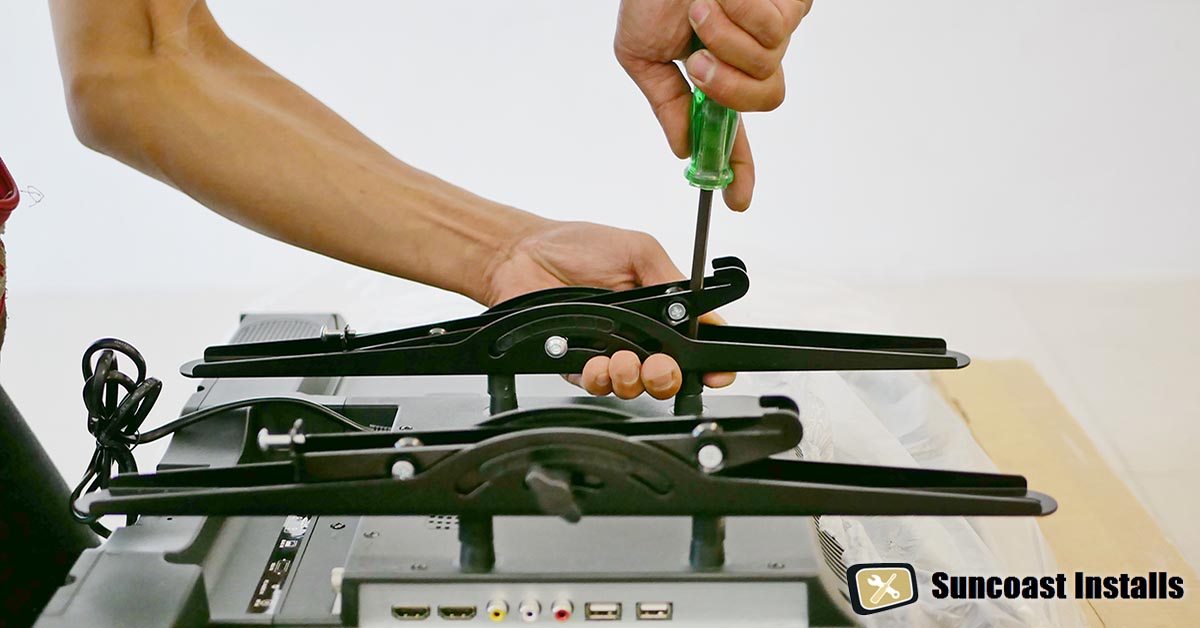 When hiring a TV installer Westchase can trust, it's important that you are familiar with the TV installation process. Of course, we don't expect that you install your own television (in fact, we don't recommend it!), but we do think that it's important that you are able to determine when a TV installation professional is taking you for a ride. Here at Suncoast Installs, we believe that every client should receive respectful service even if you don't hire us to do the job, so today we're sharing what a reputable TV installer Westchase will do when they show up for your installation project.
A TV Installer Westchase Trusts Shares What to Expect From Your TV Installation
Showing Up On Time
Punctuality is important, but it also says a lot about how a company views your time. If a company makes you wait for hours before they show up for your appointment, they obviously don't value your time. Here at Suncoast Installs, we believe that your time is just as important as our own which is why we never ask you to wait around for hours for us to show up. We provide you with an appointment time and we stick to it.
Having All the Right Tools
If you hire a TV installer Westchase trusts to complete your TV installation project, they will show up with the right tools on hand to complete your installation job. Yes, once in a while we all forget things and we know that it's a forgivable offense. But if your installation technician shows up with none of the right tools on hand, then you should be looking for a new installation company with technicians who arrive fully prepared.
Being Courteous
Here at Suncoast Installs, we may be old fashioned but we believe that when you're invited into someone's home you should always be courteous and respectful. Yes, your TV installation expert is there to do a job, but that is no excuse for bad manners. That's why you can expect courteous and respectful service from every one of our technicians.
Level Installation
When hiring a TV installer Westchase can trust, they should always provide you with quality service and that means ensuring that your TV installation is level. When installing your TV, you should expect your technician to utilize leveling tools during the installation process and once the installation is complete, your wall mounted TV should always be level. If your installer doesn't use the right leveling tools or if they do and they still don't mount your TV on the level, then you shouldn't hesitate to ask them to remedy the problem.
Leaving Your Home As It Was Found
If you hire a reputable installer to complete your job, when your TV is wall mounted and your technician is getting ready to leave, your home should look just as it did before your technician arrived (with the exception of having a newly mounted TV!) Here at Suncoast Installs, we train all of our technicians to always leave your home as they found it which includes cleaning up any debris or packing material that resulted from your project. We know that not all TV installation companies do this, but we believe that it's just not good service if you can tell that our techs have been there!
A Price You Were Quoted
Finally, a TV installer Westchase residents can trust with their business will always charge you the price that you were quoted IF that quote was binding. If you were assured by the installation company that you chose for your project that you would pay no more than a quoted price and once your installation is complete, they try to charge you more for their services, you have every right to fight that additional charge amount and let the company you are working with know that you have no intention of paying any more than the guaranteed quote you received.
Ready to Hire a TV Installer Westchase Has Trusted For Years?
If you don't want to risk putting your TV installation project in the hands of an amateur, our professional technicians can complete your installation project professionally, in a timely manner, and for a price that fits your budget! Just give us a call today at 727-480-8358 to make an appointment with our TV installation experts!