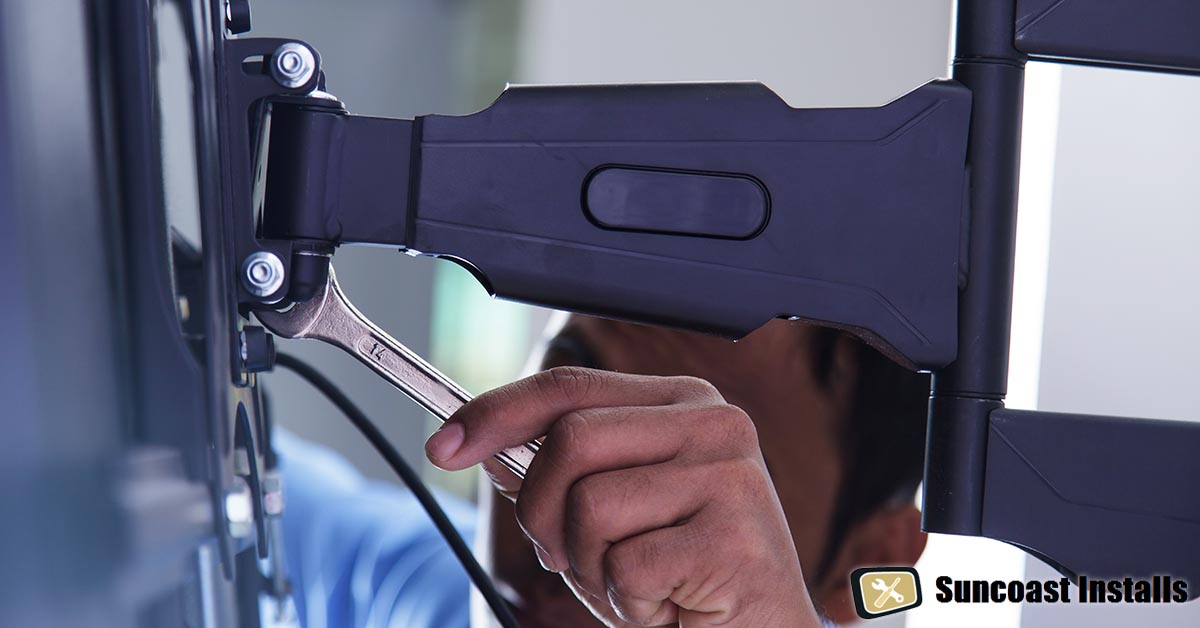 Hop online and search "TV install near me" and you're sure to get plenty of business referrals, but how can you tell if those companies are reputable or if they're just buying search engine positions so they're the first search result you see? As one of the few truly reputable installation companies in West Florida, here at Suncoast Installs, we know how to tell reputation from hype which is why today we're giving you a few tips on finding a top-quality company TV install company.
"TV Install Near Me" – Reputation or Advertisement?
It's easy enough to open up a search engine page and type "TV install near me" and sure enough, you'll get pages upon pages of search engine results. The problem is, however, that when you search for that TV installation company, you need to be sure that you are hiring a company that has a reputation of good service, quality service, and affordable pricing and a search engine result can't always give you that information.
Because of the way that search engines work, companies can buy keywords or banner advertisements and portray themselves as a reputable company even when they are anything but reputable. So, how do you go about distinguishing the truly reputable companies offering "TV install near me" and purchased ad spots?
Pay Attention to Reviews
Online reviews are a great place to start when looking for a reputable option for a "TV install near me". Now, when looking at online reviews, it's important to remember that not every comment is going to be 100% positive, but look for key trends. Do the people leaving feedback about their experience seem happy with the service they received? Is there a common complaint among customers? Is that complaint about something that you can live with or is it something that will lead to distrust during your installation process?
We recommend turning to Google business reviews as a good starting point for gauging the reputation of any installation company. You can see the Suncoast Installs Google Business reviews page here.
Pay Them a Visit
If you're truly interested in just how reputable a TV installation company is, it's always best to pay them a visit. Start by giving them a call and making an appointment to pay them a visit or have them pay you a visit. Not all installation companies work out of a physical office because a lot of our work is done at the homes of our clients, so don't be surprised if your technician comes to you and doesn't have a storefront business.
Once you have made an appointment, make a list of questions that you'd like answers to during your visit. This will help you to find out more about the company, the services they provide, and it'll also give you the chance to get a feel for how comfortable you are with the technicians who will be performing work in your home.
Ask to See a Portfolio
If you visit the company offering "TV install near me" make sure to ask to see their portfolio while you are there. If an installation expert visits you at your home, ask that they bring along a portfolio that you can look through. 
When looking through a TV installation company's portfolio, pay attention to the type of work that they have done as well as the quality of that work. This is important to you because while a company may have an incredible caliber of work, they may not have experience in the type of installation project that you are looking for. What does that mean? It means that even though you are hiring a company who is good at what they do if they don't have experience with the specific type of installation you are looking for, your project may not turn out with such quality.
Ask Around
It's easy enough for a company to claim to be the best that there is through buying search engine links and advertisements, but personal recommendations are not so easily manipulated. Ask around in the local community about TV installation companies that they recommend. You can even ask the installation company themselves for references!
Hiring a Reputable Company for "TV Install Near Me"
If you're tired of trying to research TV installation companies and want to go directly to a reputable company offering "TV install near me", Suncoast Installs is here to help! Just pick up the phone and call us at 727-480-8358 to let us know how we can help you and we'll schedule you an appointment right away!