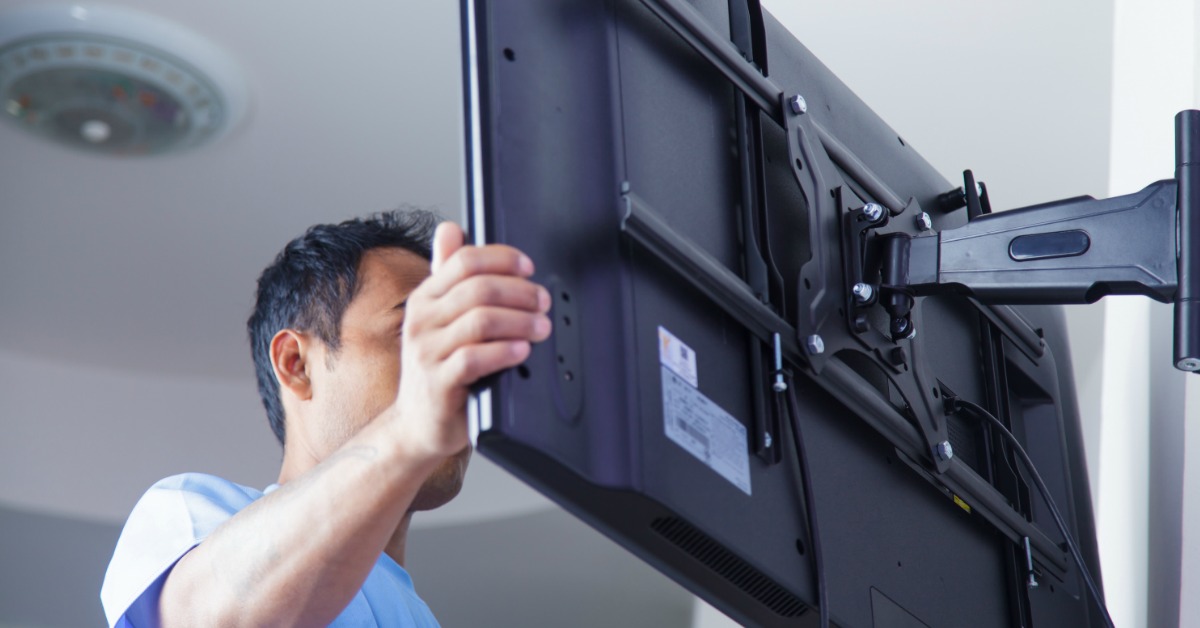 When you call a flat TV installation service to install your flat screen TV, there are a few things that you need to know to ensure that you get quality service from a professional technician.
10 Flat TV Installation Service Tips You Need to Know
1. What type of installation services do you offer and what is included in those services?
Find out what type of services a flat TV installation service company offers. Here at Suncoast Installs, we offer wall mounting and tabletop installation services to our clients. When you hire our technicians for wall mounting installation, your service will include:
Unpack your LCD, LED, OLED, or Plasma TV
Mount and secure your TV on your wall of choice
Connect up to 3 video components
Program basic functions on the Remote Control
Clean up work area and remove installation debris
3 Yr Warranty on services provided
When you hire our technicians for tabletop TV mounting installation, your service will include:
Unpack your TV
Setup TV on the stand or tabletop
Connect all available video components
Clean up work area and installation debris
3 Yr Warranty on services provided
2. Are your technicians' background checked and professionally trained?
It's important for you to feel safe with anyone you allow into your home which is why here at Suncoast Installs, we background check our technicians and ensure that they have the professional knowledge and licensure to perform work for you!
3. Is your pricing straightforward, upfront cost or are there added expenses?
You need to know what you are going to pay for a job upfront without there being any surprises after the job is done. At Suncoast Installs, we believe in being completely transparent in our pricing which is why you will never receive a surprise bill from us after your installation has been completed. You will pay what you are quoted for a job, not what we decide you should pay after the job has been completed.
4. Do I need to do anything before you show up for my appointment?
Before your flat TV installation service expert shows up to install your TV, you may need to do a few things like ensuring that there's a clear path to the installation area, have your TV delivered and ready for installation, etc. Different installation experts require different things for their jobs, so call ahead and ask what your professional needs from you.
5. What additional services do you offer that I may need for my installation?
Depending on the type of installation you want doing, you may want additional services done too. For example, if you are having your TV wall mounted, you may also want the TV cables to be concealed behind the wall. Here at Suncoast Installs, this is a service that we can provide to you for an additional fee while we are doing your installation. Other clients also have us install surround sound speakers with their television installation.
6. Do you offer customer support post-installation?
Here at Suncoast Installs, we are dedicated to providing our clients with complete customer support, but not all flat TV installation service companies are as dedicated to customer satisfaction. Make sure that you ask what type of post-installation support a company provides prior to booking their services.
8. Do you offer a guarantee on your services?
You should always opt for an installation company that provides a guarantee on their services. A guarantee ensures that a company has confidence in their technicians and their services and you always want to work with a company that is confident in their services.
9. If you do offer a guarantee, what does that guarantee cover?
A company offering a guarantee is a big plus, but make sure that you know what that guarantee covers before you hire a company to install your television.
10. How long will my installation take?
Depending on what type of installation service you want doing, installation times can vary. You want to be sure that you have enough time open in your schedule to allow for the full installation process, so call ahead and ask for a general timeframe on the type of installation you are interested in.
Need a Professional Flat TV Installation Service?
If you live in West Florida and need assistance from a professional flat TV installation service, Suncoast Installs can help. Just pick up the phone and give us a call at 727-480-8358 to make an appointment with one of our installation technicians today.