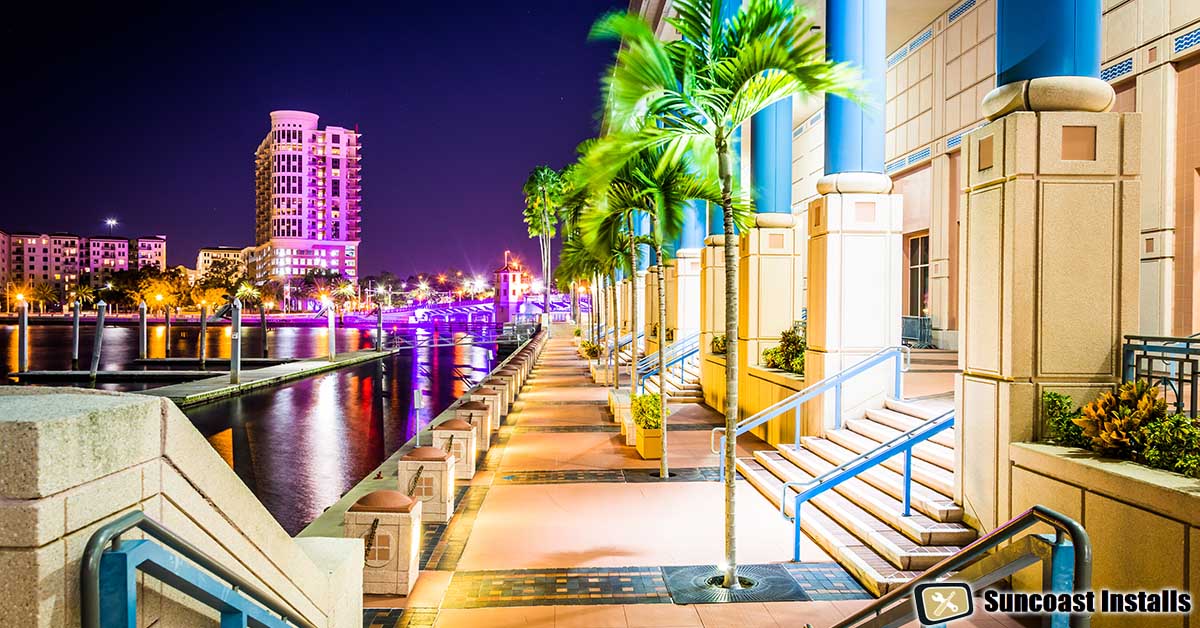 As Florida TV installers, here at Suncoast Installs, we have plenty of experience with TV installation. What most people don't realize, however, is that over the course of daily business, we often pick up great tips and information. One thing that we hear about quite often is the newest sale price on the television that we're mounting on the wall for a client. Over the years this has allowed us to get a pretty good idea of what time of the year is best when it comes to purchasing a new television and today we're sharing that with you along with some great tips on saving on your next TV purchase!
Florida TV Installers Share the Best Time of Year to Buy a New TV
While the prices of televisions are always coming down, there are always new models coming out that carry premium price tags so it's always good to know the best time of year for picking up that new flat screen! Here are a few tips that we've picked up along the way…
The "Big Game" Time of Year
If you're a football fan then you will know that during the time of year when we're running up to the "Big Game" there are a million and one ads for TV sales. During January and February, you will find the best deals on larger screen televisions between 49″ to 65″ televisions as people upgrade their old TV's for bigger screens just in time to see that game!
When New Models Hit the Floor
During Spring (specifically March and April) television manufacturers begin releasing their newest TV models. Just like cars and trucks, when newer model televisions are released, older model inventory has to go and so you will see some pretty good markdowns! Closeouts, clearances, sales, and liquidations are all great ways to save money on your new TV if you're just looking to upgrade, but if you're looking for the newest models, this isn't the ideal time of year to buy.
Black Friday
It's a no-brainer to shop for a new television on Black Friday…that is if you can face the crowds or the overloaded servers when you shop online. Of course, you also run the risk of missing out on the TV you want because supplies during this time of year are limited. If you're willing to take a chance, though, Black Friday can net you some of the biggest savings on the newest TV models.
How Else Can You Save on TV Purchases?
Our Florida TV installers don't just hear about the best times of year to buy new TV's while they're working, they also hear about great tips and tricks to save on buying TV's all year round. Some of these money-saving options include:
Opt Out of the Extended Warranty
These days, most televisions that you purchase carry a full manufacturer's warranty for at least the first year after your purchase. Extended warranties provided by the store where you purchase your TV are pricey and often cover little else than the manufacturer's warranty covers in the first place.
Buy a Previous Model
As we mentioned above when talking about new TV releases, you can often save a large chunk on your new TV by buying last year's model. If you're not set on the newest, latest, and greatest TV option for your TV mounting project, look into last year's models to save.
Use Cash Back Programs
Whether you have a cash back credit card or use cashback websites like Ebates, you can make some of your money back from your purchase by using one of these cashback services. Most will offer you a percentage of your purchase back as a cash reward or as a credit on your credit card statement and those savings can really add up when you're buying electronics!
Use Coupons
Most people don't think to look for coupons when they're purchasing larger items like televisions, but if you have the patience to track sales and coupon websites, you can actually save quite a lot of money by using coupons and membership offers. Some of our favorite options include:
Slickdeals.net
BradsDeals.com
Retailmenot.com
New Egg membership
Need Florida TV Installers to Help Install a TV or Wall Mount a TV?
If you live in West Florida and need help with the installing a TV or wall mounting a TV, Suncoast Installs can help! Just pick up the phone and give us a call today at 727-480-8358 and make an appointment with one of our professionally trained Florida TV installers and we'll be with you right away!