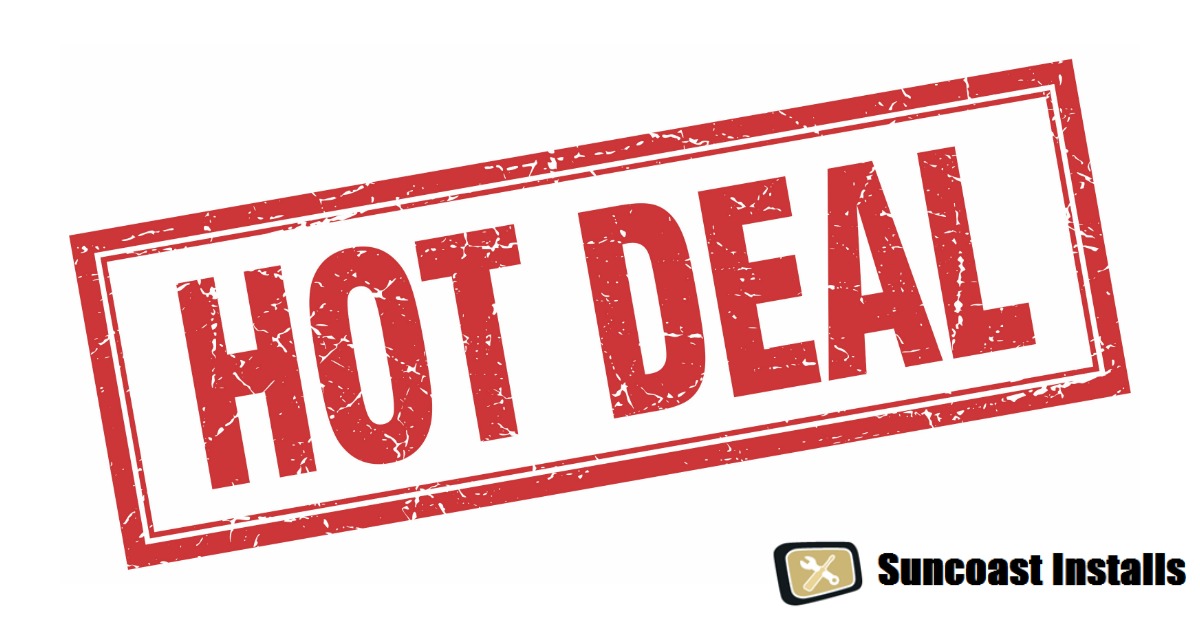 For a limited time only, Suncoast Installs is offering a multiple TV installation deal! With a savings of $69 per television with multiple installations, now you can get TV's professionally installed in every room of the house! Whether you have just moved into a new home or whether you've been putting off a professional installation because you just couldn't afford to have multiple TV's installed, this is the perfect opportunity to get it done!
10 Benefits You Can Take Advantage of With This Multiple TV Installation Deal!
1. Professional Installation Gives You More Versatility
When you decide to have a professional install your television for you, you have more versatility in terms of placement of your televisions. Instead of simply placing your TV on a tabletop or using a simple mount, professional installation means that you can put your TV anywhere you like…even out on the lanai!
2. You Don't Have to Know What You're Doing
If you've never hung a picture let alone mounted a television, then hiring a professional TV installation company is the best thing you can do for yourself. Avoid having to improvise and risking a crooked installation by having an experienced technician install your TV for you!
3. You Don't Have to Buy Specialty Tools
If you are interested in having a more unique TV installation done – perhaps you want to mount your TV over your fireplace – you need specialty tools to get the job done. Different mounting surfaces require different specialty tools to anchor your TV safely and some of those tools aren't cheap! Avoid having to invest in tools you will only use once and call in a professional instead.
4. You Don't Need to Worry About Falling TV's
Even if you think you've done the job right the first time when you install your own television there is always that nagging worry that you did something wrong. Instead of worrying unnecessarily about that TV coming crashing down, call a professional in and have peace of mind that your TV is secure.
5. Professional Installation Means You're Insured
Hiring a professional installation company like Suncoast Installs to do your installation for you means hiring a company that is insured. Why is that insurance important? Because it means that every aspect of your TV installation is covered just in case something unexpected happens. Professional install technicians are less likely to encounter trouble during TV installation than you are on your own but should a TV fall, a complication with drywall occur, or anything else unexpected happen, you are covered for repair and replacement under their insurance company.
6. Reduce Your Fire Hazard Risk
When installing your own television it's not uncommon to set up the TV and leave wires grouped and tangled behind the TV. This doesn't only lead to confusion when it comes to adding new components to your system, but it also increases the chances that something will overheat and pose a fire hazard. When you hire a professional installer to take care of the job for you wires are carefully placed for safety and to reduce confusion in identifying one component from another.
7. The Multiple TV Installation Deal Makes Installation Affordable
With a savings of $69 per television with multiple TV installations, professional installation is much more affordable than it would otherwise be. Taking advantage of this savings with Suncoast Installs means that you can avoid paying the exorbitant fees charged by other installation companies.
8. The Right Mount Everytime
Choosing to have a professional TV installation company install your television means that you don't have to worry about choosing the right mount for mounting your TV. Many homeowners think that mounting a TV involves nothing more than picking a commercial mount and hanging it on the wall. The truth is that there are many factors that go into choosing the right TV mount. You need to choose a mount that not only fits your TV, but that will tilt or extend as you need it to. The wrong TV mount can mean your TV being unviewable due to glare or it can mean that your TV will come crashing down because it can't hold the weight of your TV.
9. Perfection of Placement
Placing your own television means having to consider plenty of factors that will influence the viewing experience. Without previous installation experience, it can be hard to anticipate viewing problems like glare or viewing angles. Professional placement of your television means that you get the best picture and the optimal viewing angle for everyone in your audience so that no one gets left out in the cold when you're watching a movie!
10. Organization
Many homeowners decide to mount their televisions on the wall by just buying a TV mount and mounting it like a picture frame. Not only is TV mounting not this simple, it requires more components than just a TV mount. What do we mean? Look at your TV now. How many different components are attached to your television? Where do they sit? It's easy to forget about these components when mounting your own television, but a professional installation company technician always thinks about the whole installation. This means making sure that you have a secure location to hold exterior components but that this location is aesthetically pleasing and does not lead to wires dangling or interrupted remote control signal. Your professional install technician is familiar with a variety of methods to support these exterior components, so ask what options are available to you and ask your technician's professional opinion to get the best setup possible.
Ready to Save With This Multiple TV Installation Deal?
If you are ready to take advantage of all of the benefits above and save $69 per television installation pick up the phone and give Suncoast Installs a call at 727-480-8358! Don't forget to mention the multiple TV installation deal when you call!