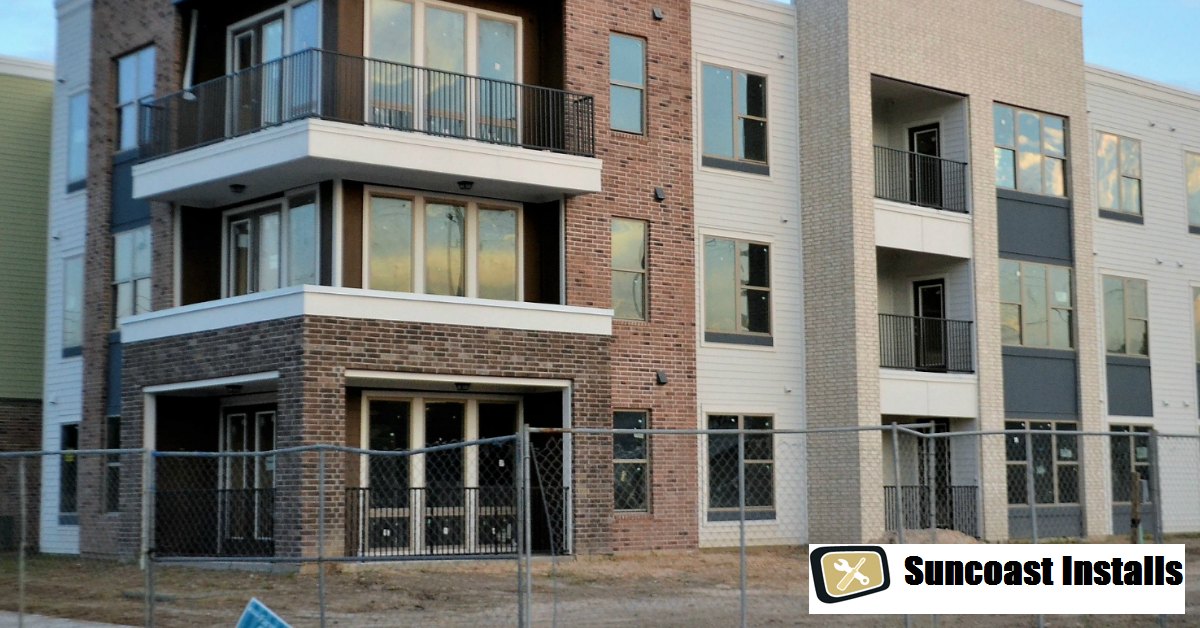 New home TV installation and mounting can be nerve-wracking. In a brand new home, the last thing you want to do is ruin the brand new walls of your home by improperly mounting your TV! Here at Suncoast Installs, we specialize in TV installation and mounting projects and can help you get a professional install every time.
New Home TV Installation and Mounting Considerations
When you move into your new home and are ready to set up your home theater system, we can understand being a little hesitant. Having been installing and mounting televisions since 1999, however, here at Suncoast Installs we are more than confident in our skills. That means that you can trust us with your installation project no matter how complicated it might be.
Part of what makes us so confident in our installations is our knowledge of the installation process. What kind of things do we consider during this process? To ensure that your installation goes smoothly, we consider anything and everything including…
The Size and Weight of Your TV
The size and weight of your TV determine what type of bracket we use for mounting and the hardware that we use. Without doing this, there is a risk that your bracket won't fit your television or that your TV will be too heavy for the bracket hardware and will fall off the wall.
Studs
Stud finders don't always give an accurate picture of your wall which is why we double and triple check everything before we get started. We have heard one too many stories of people thinking that they are mounting their TV on the studs only to realize that the stud finder was wrong. What happens then? The TV comes crashing down.
Environment
Where we mount your TV is as important as how we mount it. When we mount your TV we consider where it is being mounted, not only due to studs but also due to the room itself. For example, if your home has a window on the wall directly across from where you want your TV mounted, you may not be considering the possibility of reflections and glare. Or, if you want your TV mounted above the fireplace, it's important to consider placement to ensure that your TV is kept safe from heat damage.
Why Not Leave it to the Pros?
If you are nervous about your new home TV installation, give us a call at 727-480-8358. When you hire Suncoast Installs, you can be sure that you get only the best service and your new home TV installation will be everything you dreamed it would be!