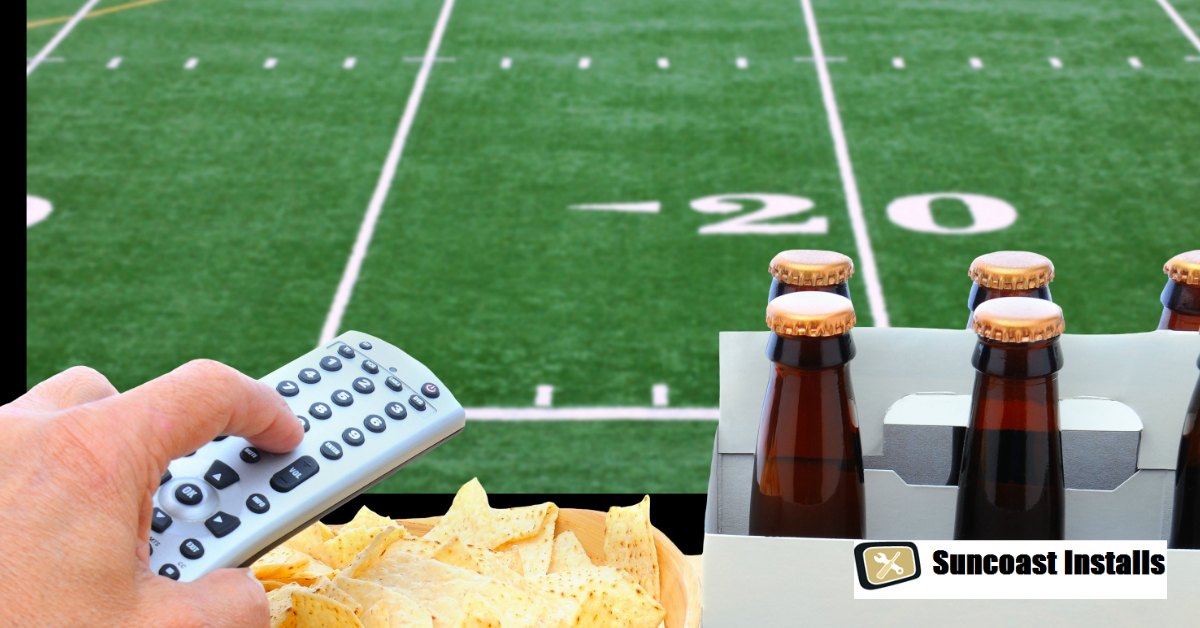 Big Game TV installation can be impossible to get done at the last minute. Fortunately, if you live in the Tampa Bay area Suncoast Installs is here to help!
Big Game TV Installation – Why Is It So Hard to Come By at the Last Minute?
The Big Game TV installation at the last minute is something that many people don't think about until they pick up that great deal on a new TV at the last second. A brand new screen to watch the game is great, but when you can't install it yourself it leads to a whole host of problems. It's not only those last minute impulse buys that get you though! Every year we get at least one poor client whose dog knocked over the TV, whose old TV finally died, or whose screen got in the way of a spontaneous game of ball.
Life happens and we don't think that you should get punished for "delay of game" when a foul took out your TV or for upgrading your quarterback! That's why we set aside last minute Big Game TV installation appointments for those of you who need us! We know that missing the game isn't an option, so we make sure to reserve a handful of last minute install appointments so that you're not left in the lurch.
Getting That Last Minute Big Game TV Installation Appointment in Tampa Bay
If you find yourself in need of one of our last minute installation appointments for the big day, don't panic! Pick up the phone as soon as possible and give us a call. You can reach us at 727-480-8358. All you need to do is give us a call and tell us how we can help and we'll take care of the rest. We even have special after hours appointments so you don't have to worry about missing work just to meet us!
Once you call, we will fit you in with our soonest available appointment – no, we don't ask you to wait for us from 8 am to 5 pm! We give you an exact appointment time so you can spend the rest of your day taking care of business.
For your new TV installation, one of our licensed installation professionals will help you to unpack, set-up, and program your new set so that you're all ready to go. There is nothing our professionals can't do, so if you need that surround sound system hooked up too, we can get it done while we're there. After all, we want to make sure you get the best view of the Bucks winning the bowl!