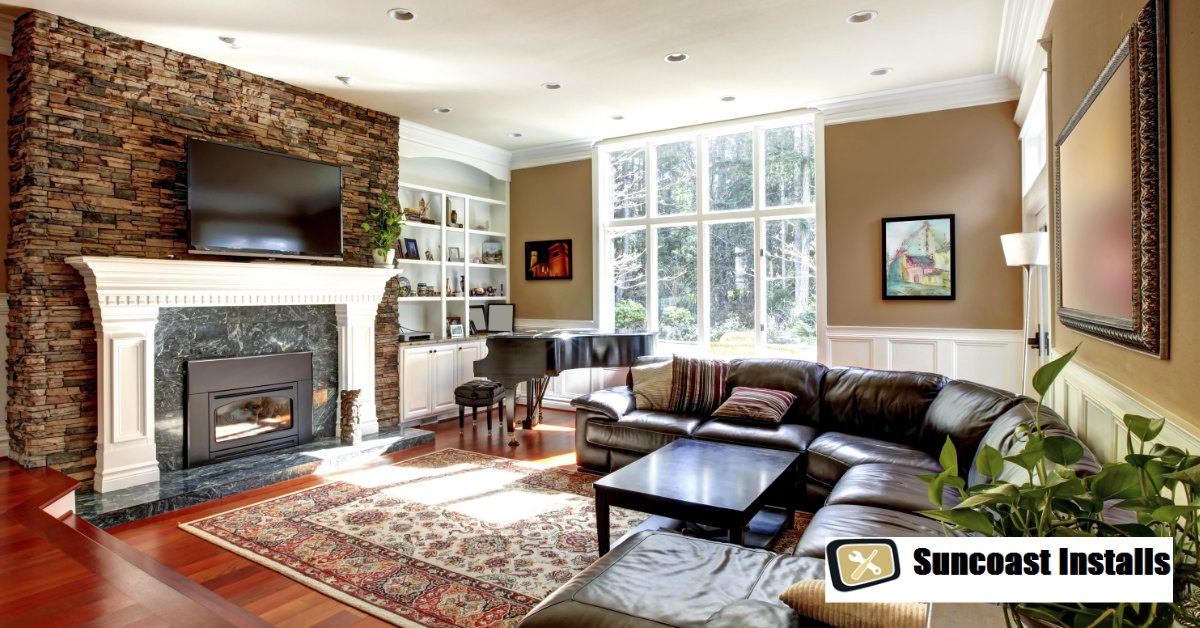 A fireplace TV mount is the perfect addition to any cozy couple's home. Cozy as a fireplace TV mount may be, however, it's certainly not the easiest project to take on yourself.
Fireplace TV Mount Setup – What You Need to Know
The first and most important thing you need to know about a fireplace TV mount setup is that it's not a job for a DIY beginner. Unlike other TV mounting projects, fireplace mounting requires additional considerations as well as special installation tools that most homes don't have on hand.
The next thing you need to know when it comes to this type of installation is that not every installation company is experienced with these more complex projects. This means that even if you call in a professional for your project, that doesn't mean that they will be capable of completing your project successfully.
Here at Suncoast Installs we have plenty of experience with successful fireplace TV mount setup projects, so we know just what it takes!
What kind of questions should you be asking if you're looking for a cozy fireplace TV mount setup?
If you live outside the service area of Suncoast Installs, it's important to know what to ask of your installation professionals to ensure that they are qualified for the job.
Ask to view their portfolio. A good installation company will have a full portfolio that demonstrates both success and quality.
Talk to your installer about the heat from your fireplace. What is a fair distance above the fireplace for your TV to be mounted safely. If they haven't considered the impact of heat on your TV, it's time to seek out another professional!
Ask if they have the right tools for the job! Depending on your fireplace construction, different tools are necessary for mounting. For example, it requires different tools to mount a TV on a stone fireplace versus a wooden beam fireplace.
Ask if your professional installation company is insured AND if they offer a guarantee on their service. Fireplace mounting is a complex job and you need to be sure that your installation company is confident in their work.
Talk with your installation professional about optimal viewing angles. To ensure that your fireplace mounting is optimal for viewing from every angle in the room your professional should carry with them a variety of mounting brackets.
Consider Suncoast Installs If You Live in West Florida
If you live in west Florida and you are looking for a cozy fireplace TV mount setup then you're in luck! Suncoast Installs offers service in your area and we are ready and waiting for your call!
Contact us today at 727-480-8358 and arrange for one of our technicians to give you a quote for your upcoming project!