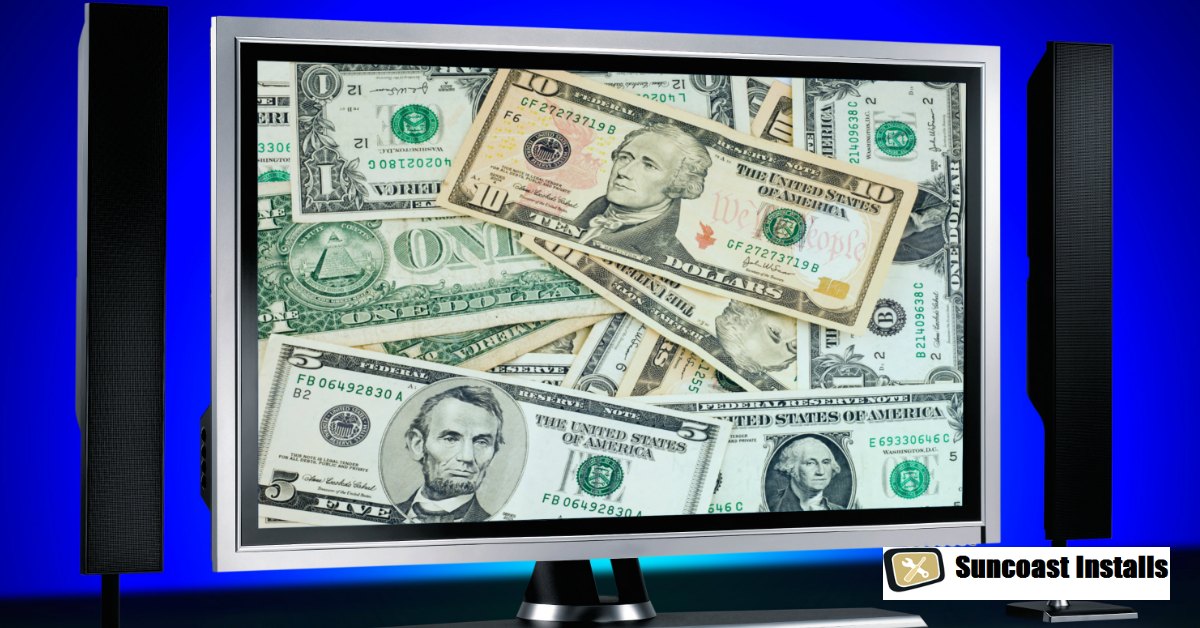 TV installation cost is a major concern for some of our clients. In fact, we can't count the number of times that a potential client has called us expecting to lose their life savings just for mounting a TV!
Here at Suncoast Installs, we know that you work hard for your money because we do too! We understand that spending money on those "little jobs" around the house can be frustrating. We get that you don't have a choice sometimes. That's why we offer our TV installation packages to our Western Florida clients at an incredible rate!
So, just how much should you be looking to spend for your TV installation?
TV Installation Cost with Suncoast Installs
Here at Suncoast Installs, we offer a wide range of TV installation services and of course, the cost of those services is going to depend on what you need, but we can assure you that all of our pricing is fair and affordable.
TV Wall Mounting and Setup
Our TV wall mounting and setup fees are based on the size of the television that you want mounting. Our packages begin at $124.99 for TV's up to 40″ and go up to $199.88 for 61 – 70″ televisions! That includes our TV wall mounting standard setup cost.
Tabletop TV Setup
We also offer table top TV setup. This TV installation setup costs just $124.00!
All the Bells and Whistles
We don't just come in and mount your TV and leave! Here at Suncoast Installs we believe in the complete satisfaction, that's why we offer additional services such as hiding wiring within the walls, creating covered wiring sections, setting up your surround sound system, and even programming your remote control. All you have to do is ask us when you first call and we will make sure that you get the complete package that you deserve!
Need a TV Installing in West Florida?
Suncoast Installs has been servicing Western Florida since 1999 and we know that our reputation and success as a business depends upon your satisfaction. That's why we ensure that you are satisfied with every purchase that you make from us, not only in terms of work but in terms of the service that you received as well.
Are you in West Florida and looking for the complete customer service package and a TV installation cost that you can stomach? Then give us a call today and see how we can help! You can reach us at 727-480-8358!