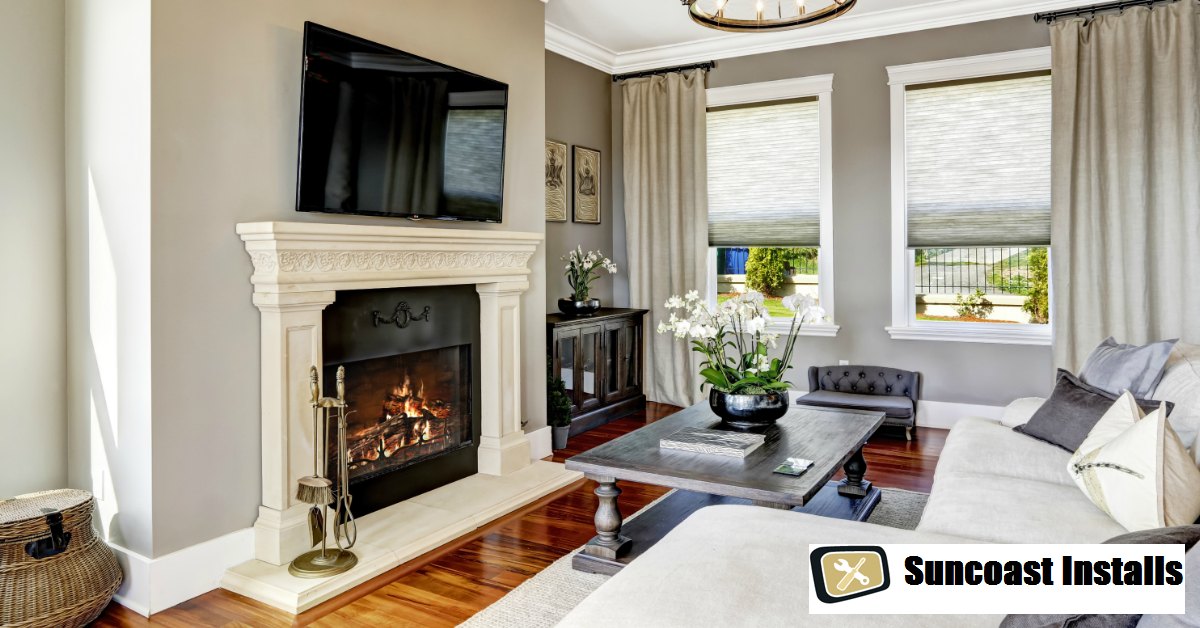 Have you ever wondered "how much does TV installation above fireplace cost?" If you have, then you're not alone!
Most homeowners are reluctant to install their own TV above their fireplace for a number of reasons –
They are worried about heat damage to their TV
They are unable to lift their TV
They lack the tools needed to mount the TV on the fireplace
They do not have the confidence in their ability to mount their own TV properly
These are just a few reasons that we have people calling us daily here at Suncoast Installs to help with fireplace TV mounting!
How Much Does TV Installation Above Fireplace Cost?
So, that brings us to the question – "how much does TV installation above fireplace cost?"
The answer to that question is that there really isn't one cost. Your installation service cost will depend upon who you hire, the size of your TV, the quality of service you receive, and just how complex your installation package is.
When you call us here at Suncoast Installs, however, we always ensure that you get the best deal for your money! Not only are our services affordable, but we also ensure that you get the best service in the area.
Unlike the other guys here in West Florida, we ALWAYS offer a three-year warranty on the services that we provide. Yes, that means that if two years from now, you have a problem that arises from any work we have performed for you, it is guaranteed! Why don't all companies offer that type of guarantee? Because they don't invest in their employees!
Here at Suncoast Installs, we not only make sure that every one of our employees provides top of the line service, but we also make sure that they undergo ongoing training. We invest in our employees because we know that your happiness and our quality of service rely on their education!
Need a TV Installation Above Fireplace Cost Estimate?
Do you live in West Florida and need a cost estimate to have your TV mounted above your fireplace? Then we can help! Just give us a call at 727-480-8358 and tell us what you are looking for. We will set you up with an appointment time and get the job done in no time at all!