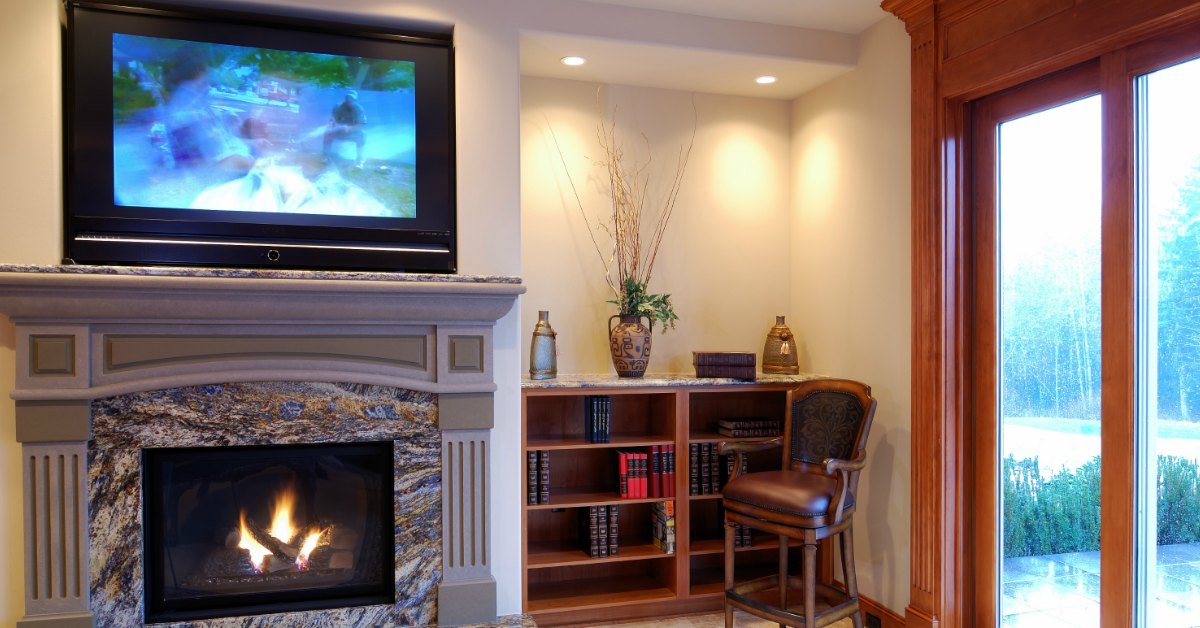 When it comes to TV installation over fireplace, things can get a little challenging. If you are considering doing your own TV installation over fireplace, then you should be aware of these challenges and know how to overcome them.
Tips for TV Installation Over Fireplace Video
1. The Surface of the Fireplace
One of the biggest challenges to TV installation over the fireplace is the surface of the fireplace itself. Not only can it be quite trying to mount your mounting hardware onto the fireplace surface, but it can also result in cracked masonry.
How do you overcome this? Ensure that you are using the right tools for the job and work slowly! Unsure of what the right tools are? Consider calling us in to take care of your TV installation over fireplace for you!
2. Access Points
Mounting a TV over the fireplace means that you will need access to a power source, preferably without running unsightly cables across your fireplace! There are a couple of ways to deal with this issue, but neither are easy!
Depending on what your fireplace is made from, you may be able to run wiring through drywall to reach a nearby outlet. If this is not possible, there is also the option of hiding wiring behind cable coverings that match or compliment your décor. Just be sure that the cable coverings that you use are mounted on straight angles!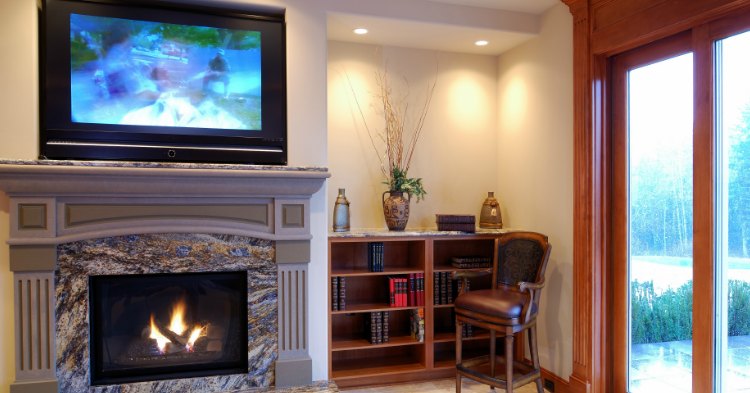 3. The TV Mount
Knowing which type of TV mount to use when doing TV installation over fireplace is crucial.
Incorrectly mounted, you will find that your TV is only viewable to certain places in the room. Additionally, with the wrong mount, you may begin to experience neck pain from straining to get a good view of the screen!
How do you overcome this? The best way to overcome these types of problems is to have your room assessed by a professional. It may cost a little more than doing it yourself, but it will save you neck pain in the future and avoid having to remount the TV if you use the incorrect mount the first time.
4. Heat
Heat damage is also a concern for anyone looking at TV installation over the fireplace. If mounted too close to the heat source of the fireplace, you can damage your television screen and the internal components.
How can you avoid this type of thing from happening? Research! Know what type of TV you have and know the ins and outs of your fireplace and the heat that it produces. These things can help you to mount your TV at the right height to avoid any escaping heat damaging your electronics.
Of course, it can be quite difficult to know exactly where a heat-safe zone is for your TV because every TV setup is different, so if you're unsure, it's always best to call for help!
Here at Suncoast Installs, we have plenty of experience in TV installation over fireplaces. We know that it can be a tricky process, but we have the right tools for the job and enough experience and training to know just what we're doing!
Just give us a call at 727-480-8358 and we'll get your installation scheduled ASAP!