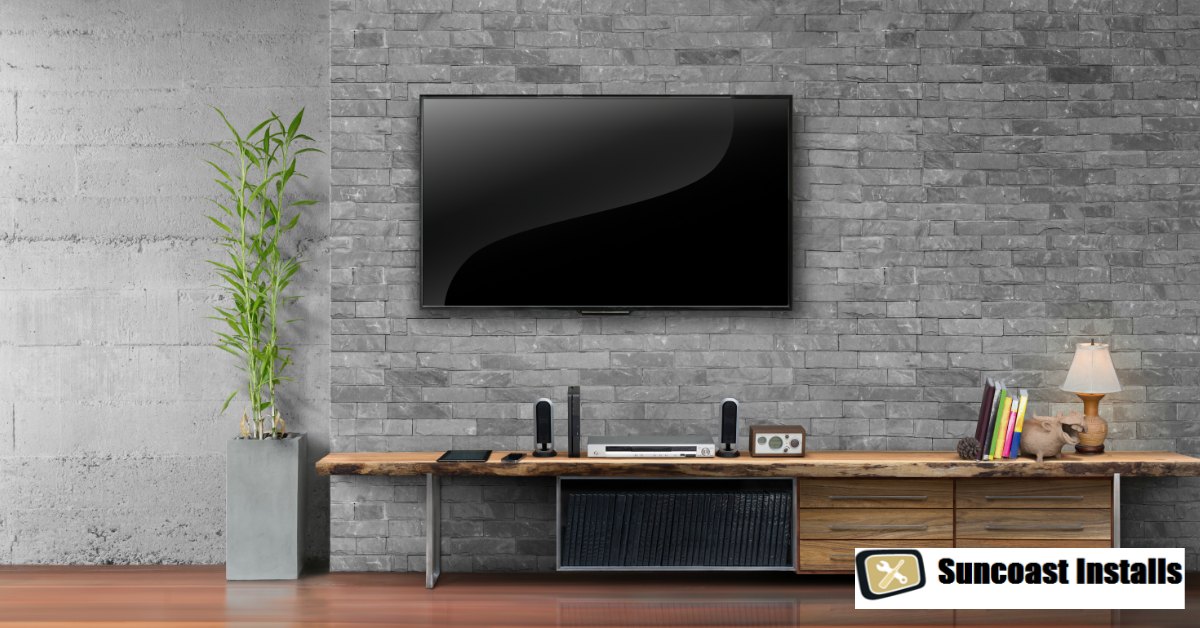 Florida TV installation company, Suncoast Installs, has been installing televisions for Floridians for over 19 years and today we're sharing 10 facts that we bet you didn't know about us!
10 Things You Didn't Know About Florida TV Installation Company Suncoast Installs
1. We Can Mount TV's Just About Anywhere
Some TV installation company technicians don't have the skill it takes to mount a TV on more difficult surfaces. Here at Suncoast Installs, our technicians are able to mount TV's on any surface that is conducive to a TV mount! That means that we can mount your TV outdoors, over your fireplace, from your ceiling…you name it, we can get it done!
2. We Don't Leave You in the Lurch
Where most TV installation companies will leave you as soon as they've installed your new TV, we stick around to make sure that your TV remote control is programmed as well. The other guys leave you to figure out how to program your remote control yourself and we all know how frustrating that can be. Here at Suncoast Installs, we do the programming for you so that as soon as we leave, you can kick back and relax with your remote control in your hand!
3. We Always Clean Up After Ourselves
One of our biggest pet peeves is companies or technicians who come into your home and when they've completed the service you hired them for, they leave your home in complete disarray. Here at Suncoast Florida TV installation company, we believe in leaving your home exactly as we found it, that means cleaning up after ourselves whether we do behind the wall wiring or ceiling speaker mounts!
4. Suncoast Installs Offers a 3 Year Warranty on ALL Services Provided
Because we know that our skilled technicians are the best of the best and we have full confidence in their labor skills, we offer all of our clients a three-year-long warranty on all of the services that we provide! Not may other installation companies will offer such an extensive warranty simply because they don't believe that their work will hold up for that long!
5. We Can Often Perform Same Day TV Installations
When we plan our daily appointments, we always leave a few time slots open for clients who call asking for same day services. Why do we do this? Because we know that sometimes you just can't wait to get that new TV mounted to the wall and playing the family's favorite movie just in time for pizza night! If you're in a rush to get your TV wall mounted or tabletop mounted and need a same day TV installation appointment, just give us a call and let us know and we'll do anything we can to accommodate you!
6. We Install Surround Sound Too!
Whether you are looking to install a wired surround sound system with wiring hidden behind the walls or you're looking to install a completely wireless surround sound system, Suncoast Installs can help. Just give us a call and let us know what type of surround sound system you want installing and the type of mounts you have for your speaker installation and we'll get you set up with an appointment right away.
7. After Hours and Weekend TV Installations
We know that you don't always have the time during work hours in the week to get your new TV installed. Sometimes you have to rely on after-hours installation services. The problem, however, is that when it comes to after hours and weekend TV installation, most installation companies in Florida don't offer this type of service. Those companies that do offer this type of service wind up charging an arm and a leg. Here at Suncoast Installs, we don't believe in bleeding you dry just because your schedule doesn't allow for normal business hours installation. That's why we offer weekend and after hours TV installation for a fair price.
8. We Don't Believe in Wasting Your Time
Undoubtedly, you know the feeling of exasperation when an installation or service company asks you to be at home from 8 am to 5 pm and tell you that sometime between those hours, they'll show up for your service. Here at Suncoast Installs, we don't like to be unorganized, but more than that, we hate wasting time (yours and ours!) which is why we offer all of our clients a solid appointment time for their services. No matter when you make your TV installation appointment for, we make sure that our installation technicians are on time every time so that you can better budget your time and still get a job well done.
9. We Take Your Safety Seriously
Inviting a stranger into your home, even if they're there to perform a service for you, can be worrisome. It can be even more worrisome if you are home alone and trusting a complete stranger to spend any long period of time there with you. That's why here at Suncoast Installs we fully background check all of our employees to make sure that they are skilled professionals who you can trust in the sanctity of your home. We would never ask you to trust one of our technicians if we hadn't completely vetted them ourselves and made sure that we could trust them with our company name!
10. We Do More Than Just TV Installation
Although we specialize in TV installation here at Suncoast Installs, we also offer a variety of other professional installation services! Whether you are looking to have a piece of artwork hung on your walls, new window blinds installed, or a new ceiling fan installed, we can help!
Need Help With Your Florida TV Installation?
If you live within Hernando, Hillsborough, Pasco, and Pinellas counties in Florida and need help with your Florida TV installation, Suncoast Installs can help! Just pick up the phone and give us a call at 727-480-8358 to make an appointment with one of our skilled installation technicians.