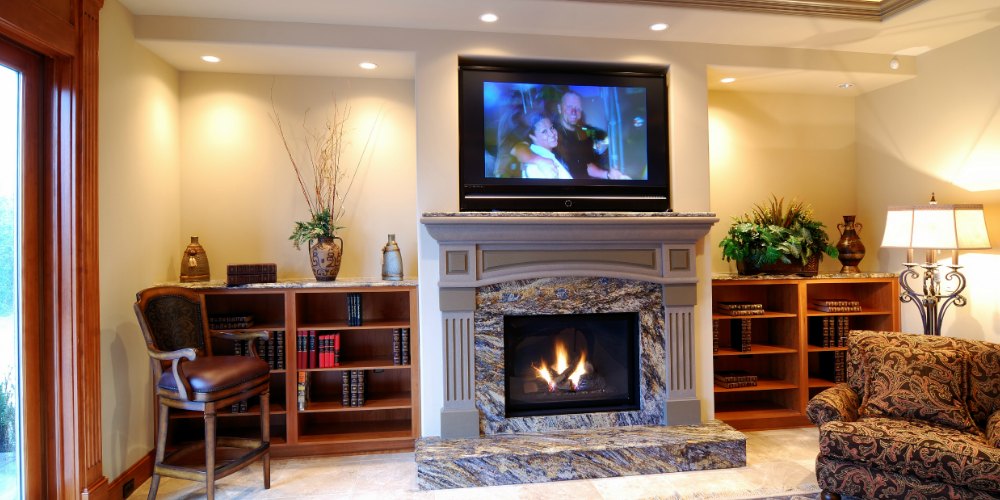 Do you have Tampa TV installation questions? Whether you're looking to have your TV wall mounted or a simple tabletop installation, we're answering your frequently asked questions about it all right here today!
Tampa TV Installation TV Wall Mounting and Installation FAQs
Q: Can I Wall Mount My TV?
A: This is a funny question and we get it quite frequently. Why is it funny? Well, it's like you asking us how long a piece of string is…the answer just depends. To give you an accurate answer we would have to know more information. What size is your TV? Where do you want it to be mounted? What type of TV do you have? How heavy is your TV? Do you own your home? If not, do you have permission from your landlord to wall mount your TV?
Most televisions can easily be wall mounted by a professional Tampa TV installation professional, but it's always best to check first. If you live in west Florida and want us to help you, just give us a call at 727-480-8358!
Q: If your technicians are so good at what they do, why do you have a guarantee on the work you do?
A: Simple! As a reputable business, we care about your experience. We want you to be satisfied with the work that we do for you and we have every confidence in our technician's ability to provide the quality of work that you're expecting. So, yes, we do offer a warranty on all of the services that we offer and we do this because we have every confidence in the work that our technicians provide. You might find that many of our competitors do not offer any type of warranty or guarantee on their work, these are the companies that you should be watching for. These are the companies who do such shoddy work that they know that if they offered any type of warranty, they'd spend most of their time correcting problems from their original installation.
Q: Does the price of wall mounting and Tampa TV installation include the cost of the TV mounting bracket.
A: No. There are many different types of TV mounts and you want to be sure that you pick the right one. Here at Suncoast Tampa TV installation we know just about everything there is to about the different TV mounting brackets that are available and we'd be more than happy to help you to choose one that's right for your TV.
Q: How long have you been in business and what do you think that says about you?
A: Here at Suncoast Installs we have been installing televisions, speakers, ceiling fans, artwork and custom cabinets in west Florida homes for the past 19 years. What do we think that this says about us? We think it says a lot about the quality of service that we offer and our dedication to the satisfaction of every one of our customers! You don't have to take our word for it, though, if you look up our reviews and online feedback from current and previous installation jobs that we have completed, you will see for yourself!
Q: Do you offer Tampa TV installation anywhere other than Tampa?
A: We're glad you asked! Yes! We offer TV installation services throughout west Florida so you don't have to live in Tampa for us to help with your installation project. If you want to check out a visual of the full area that we currently serve, just hop over to our contact page here and take a look at the Google map on the right side of the page. If you are located within the red circle on that map then we can help you with your TV installation project!
Q: Can I get a quote for your TV installation services?
A: Sure! You can either give us a call at 727-480-8358 or submit an online request here. Just remember to be as detailed as you can when you are requesting a quote, it will help us to give you the most accurate quote possible for your project. If your TV installation project is nothing out of the ordinary, however, you can find information on our TV mounting prices right here!
Q: How far in advance do I need to call to book an appointment for TV installation?
A: The sooner you call us to schedule your Tampa TV installation project, the sooner we will be able to show up and get the job done! From the time that you call us to the day that we schedule your installation appointment, it's tricky to say how long you may be waiting. We will always offer you the closest day for your installation appointment and often that can be the very next day after you call! Once in a while though, for example, the week before the "Big Game" it can be difficult to get an appointment. That doesn't mean that you shouldn't try to get one, though, because cancellations happen and we always work hard to satisfy as many of our customers as we can!
Q: If I have to cancel my appointment is there a cancellation fee?
A: We do everything that we can to provide you with quality installation services at a price that you can afford. Unfortunately, that means that if you cancel your appointment with us without giving us a minimum of 24 business hours notice, you may incur a fee. If you think that you might need to move your appointment, just remember that it's always better to call us as soon as you can!
In Need of Tampa TV Installation Professionals?
If you're in need of Tampa TV installation professionals to help with your TV installation project, Suncoast Installs can help. All you have to do is pick up the phone and give us a call to make your appointment today at 727-480-8358!