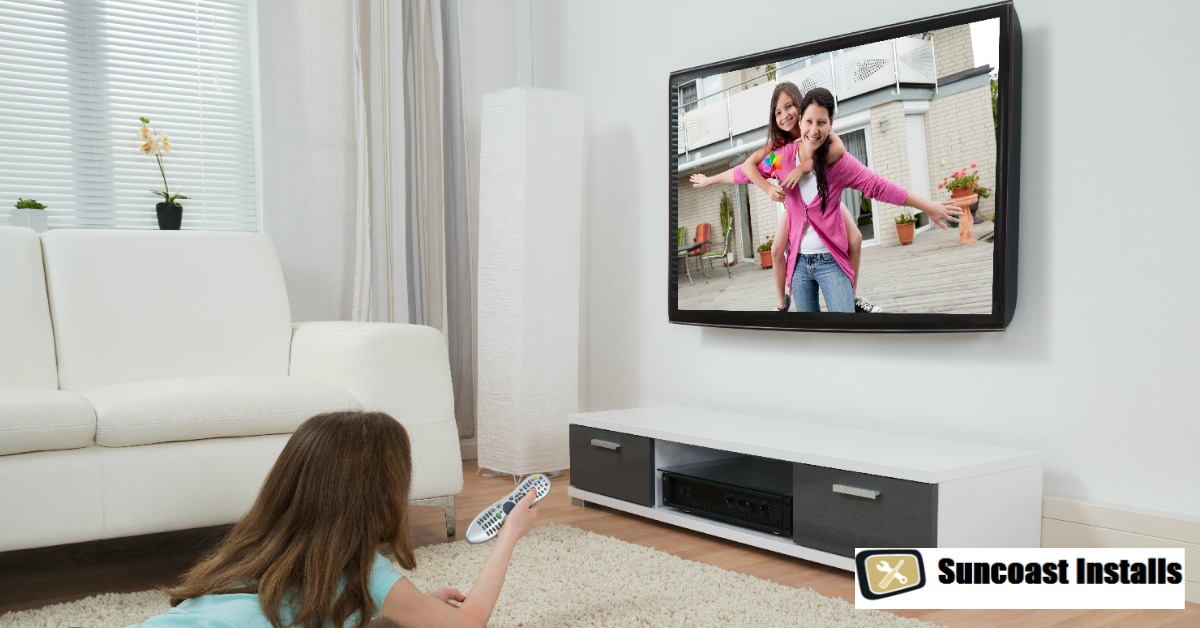 Dunedin installation services can save you time and money if you make sure to hire a professional installation company to get the job done for you! Fortunately, Suncoast Installs is the installation company Tampa, Dunedin, Clearwater, and surrounding areas trust to get the job done right!
Dunedin Installation Services
TV Mounting and Tabletop TV Installation Dunedin
Have you just purchased a new TV in time to catch the big game? If so and if you need a hand to get your TV set up in time for kickoff, give Suncoast a call! We have experience with television setups from all areas on the spectrum including small tabletop sets, large flat screen wall mounting, and even outdoor TV mounting so that you can enjoy the game out by the pool!
Not only do our technicians have the tools and the experience to get your new TV set up for you, but our prices are always fair, our technicians are always on time and always have the tools needed to get the job done, and we even offer coupons and discounts on our services – just ask!
Surround Sound System Installation
If you have a new surround sound system or if you are thinking about upgrading your current surround sound system, our technicians at Suncoast Installs can help you with that too! We can't count the sheer number of surround sound systems we have installed for Florida residents over the past couple of decades, but we can tell you that all of our clients have been happy with the results of their installation. Whether you have two speakers that need wall mounting, six speakers that need placement and mounting, or whether you just want a new soundbar installed below your wall mounted TV, we've got you covered!
Kitchen Cabinet Installation
Sometimes we make purchases with good intentions and then we realize that perhaps we weren't as well prepared as we thought we were. For example, we try to save a few bucks by ordering custom kitchen cabinets with the intention of installing them ourselves. Then, three months later, we realize that a) we don't have the knowledge to get kitchen cabinets installed b) we don't have the tools to get the job done and buying them will double the demand on our budget c) we just don't have the time to get the installation job done ourselves.
Fortunately, no matter what the reason for your cabinet installation procrastination, Dunedin installation company, Suncoast Installs can help you to get the job done!
Other Installation Services
Sometimes installation jobs can come up that you don't even recognize that you will need help with until you start the job yourself! For example, you may have new drapes that need hanging. You think to yourself "how hard can this be?" only to find out that when you're at the top of your ladder, trying to hang those treatments, that you just don't have "enough arms" to do the job yourself. You need someone to hold, someone to measure, someone to drill holes…or maybe you need someone else to go up the ladder for you because you just don't have a head for heights? Fortunately, Suncoast Installs can help you with a wide range of other installation services too! Just pick up the phone and let us know what you need help with and we'll arrange for our team to show up and give you a hand!
Why Suncoast Installs?
You may be reluctant to hire professional Dunedin installation experts to help you with your various installation jobs because you don't know how to identify a reputable company or you don't want to have to pay a large fee to have a professional do the job, but Suncoast Installs can help.
Not only is Suncoast Installs a trusted business in the Dunedin community and surrounding areas, but our prices are affordable and our business has been a staple in the community for close to twenty years, so you can trust that the job will get done well and with no fuss!
Arrange Dunedin Installation Services for Your Next Project!
It doesn't matter what your next Dunedin installation is, Suncoast Installs can help you to get the job done in no time at all! From installing ceiling fans to setting up surround sound systems to installing kitchen cabinets in Florida homes, Suncoast Installs will make sure that the job is done right and done well! Just give us a call  today at 727-480-8358.